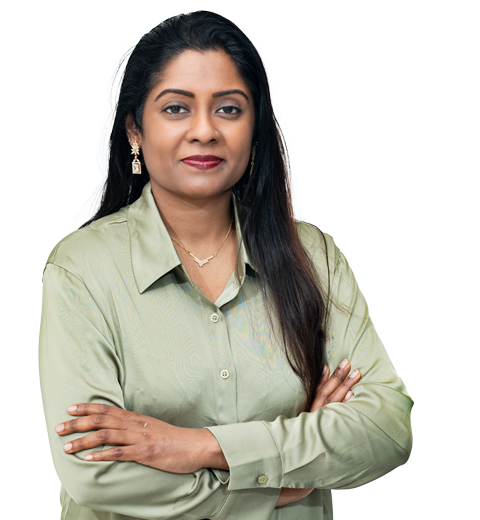 Dr. Vandana Binu
Consultant Otolaryngologist
---
Years of Experience :
13
Nationality :
India
Languages Known :
English, Malayalam, Hindi, Urdu, Tamil, Kannada, Medical Arabic
Book Appointment
Biography
Dr. Vandana Binu Vamadevan graduated her MBBS from Kasturba Medical College, Manipal, India and Master" in Otolaryngology (MS ENT) from Kasturba Medical College, Mangalore, India. She is a Fellow of the Academy of General Education, Manipal. Dr. Vandana has more than 13 years of experience in the field of otorhinolaryngology. She has worked at Dr. Noushad's ENT center at Cochin, Kerala, India a renowned tertiary care ENT hospital and gained experience in all sorts of ENT, head, and neck surgeries. She was working as the Senior Consultant and Head of the department of ENT at Indo American Brain and Spine hospital at Vaikom, one of the premiere neurosurgery institutions in India. During her acquaintance with the neurosurgery team headed by Dr. Kumar Bahuleyan, worlds senior most neurosurgeon from the USA, she got tremendous experience in various endoscopic and advanced skull base surgeries including pituitary tumor resections and complex CSF leak repairs. She had bagged the gold medal for presentation of her research work on stridor at FHNOCON, 2007. She travelled across the continents and gained further exposure in skull base surgeries from stalwarts like Heinz Stemberger. Rainer Weber and T.N. Janakiram. She attended training sessions with skull base surgeons like Thomas Kuhnel and Werner Hosemann at Sinus Academy, Berlin (Germany) in 2017. She had done observership in World skull Base Fellowship Program under the guidance of Dr. Sampath Chandra Prasad in 2019 and improvised her repertoire. She had presented papers in several national and international conferences and published her works in acclaimed journals. Dr. Vandana practices general otorhinolaryngology and specialized in various minor and major surgical cases including ENT emergencies. Her specific areas of interest and expertise include advanced endoscopic sinus procedures, Sino nasal skull base surgeries and middle ear surgeries.
Research & Publications
Published original research work on multiple myeloma 'study of factors predicting therapeutic response in multiple myeloma' in Journal of orthopedics, 2008
Role of estimation of ABG in the evaluation of stridor' published in Indian Journal of Otolaryngology, vol 62, April-June 2010 in Mangalore
Membership
Life Member of Indian Medical Association
Life Member of Cochin Society of Otolaryngologists (CSOM)
Life Member of The Association of Otolaryngologists, India
Life Member of Kottayam ENT Club
Life Member of ENT Club, Abu Dhabi
Other ENT, Head and Neck Surgery Experts