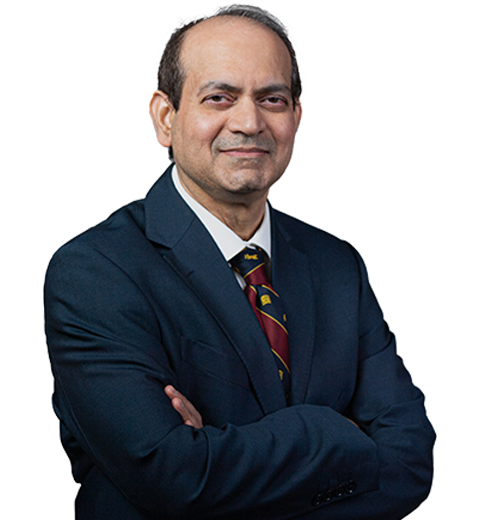 Dr. Shaik Irfan Basha
Consultant Otorhinolaryngology, Head & Neck Surgery
---
Years of Experience :
29
Nationality :
United Kingdom
Languages Known :
English, Hindi, Telugu, Urdu
Book Appointment
Biography
Dr. Shaik Irfan Basha is a highly accomplished medical professional with an impressive background in Otorhinolaryngology and Head and neck Surgery. He was the Chairman of the Department of Surgery and Head of the Division of ENT at Sheikh Khalifa Medical City in Abu Dhabi. Dr. Shaik Irfan Basha's extensive educational background includes obtaining his MBBS degree, followed by an MS in ENT. He has further augmented his expertise by achieving Fellowships in FRCS oto (Ed) and FRCS orl-HNS Ed, demonstrating his commitment to continuous professional development and staying at the forefront of advancements in his specialty. Throughout his career, Dr. Shaik Irfan Basha has made significant contributions to the medical community, both in terms of patient care and leadership. He serves as the Chair of the Ethics Committee, exemplifying his dedication to upholding ethical standards and ensuring the well-being of patients. Additionally, he is the Director of the Cochlear Implant Program, a role in which he has enhanced the lives of numerous individuals with hearing impairments. Dr. Shaik Irfan Basha's expertise extends to the management of thyroid cancer, where he serves as the Lead. His vast knowledge and experience in this area have contributed to improved patient outcomes and advancements in the field. Furthermore, he holds the prestigious position of Chairman of the Department of Surgery, underscoring his exceptional leadership abilities and administrative skills. Prior to his current appointment, Dr. Shaik Irfan Basha held the position of Head of Division and Consultant ENT and Head and neck Surgeon at King Abdulaziz Medical City in Riyadh, under the Ministry of National Guard Health Affairs. He also served as an Assistant Professor of ENT at King Saud bin Abdulaziz University for Health Sciences, further solidifying his reputation as a dedicated educator. Dr. Shaik Irfan Basha is widely recognized for his outstanding contributions to the field of Otorhinolaryngology and Head and neck Surgery. His unwavering commitment to patient care, leadership, and research has made him a highly sought-after medical professional. Patients and colleagues alike value his expertise, compassion, and dedication to improving the lives of those he serves.
Awards & Achievements
Best Tutor for Otolaryngology residency program 2012-2013, King Saud bin Abdel Aziz University for Health Sciences
Gold Medals X 2 during post-graduation, NTR University of Health Sciences
6th AOC Prize endowment, Association of Otolaryngologists of India-1998
Distinction holder during medical training
Audits and research: Actively involved in quality improvement. Has performed several audits and quality improvement programs. Has several publications in international journals and has co-authored a chapter on Radiation induced Thyroid cancer. Invited speaker in several national and international conferences
Research & Publications
Ongoing Research Project: Mathematical Models and Computer Simulation of Human Cochlear Fluid and Wave propagations in Normal and Disorder Cases – A joint project between King Abdullah International Research Centre (KAIMARC) and the University of Sudan
Incidental thyroid cancer in patients undergoing surgery for hyperthyroidism Y. More, A Khalil, H Mustafa, M Gupte, M Abbadi, D Amin, L Aziz, S I Basha Am J Otolaryngology and Head &Neck Medicine & Surgery 2019
Stenotrophomonas skull base osteomyelitis presenting as necrotizing otit... https://doi.org/10.1016/j.radcr.2019.07.018 (doi: 10.1016/j.radcr.2019.07.018)
Pneumoparotitis: a case report. McGreevy AE, O'Kane AM, McCaul D, Basha SI: Pneumoparotitis: a case report. Head Neck; 2013 Feb;35(2):E55-9
Endoscopic 532nm KTP laser excision of Inverted Papilloma of the nose and paranasal sinuses: A series of 9 patients - SK Kaluskar,R Mehta, T Farnan, S I Basha. ENT Journal 2009. 88 (4);880-887
The efficacy of pharyngeal packing during routine nasal surgery – A prospective randomised controlled study - S I Basha, E McCoy, R Ullah, JB Kinsella . Anaesthesia 2006. 61 (12);1161-65
Papillary Carcinoma arising in ectopic thyroid tissue within a branchial cyst with neck node metastasis – a case report. R K Mehmood, S I Basha, E Ghareeb. ENT Journal 2006. 85 (10) 675-6
Routine nasal packing following nasal surgery – Is it necessary? – S I Basha, D Gupta, S K Kaluskar. Indian Journal of Otolaryngology 2005.57(1);69-71
Unifocal Langerhans' Cell Histiocytosis and Frontal Sinus Agenesis – A case Report – S.I Basha, S. Napier, J.B. Kinsella. ENT Journal 2002. 81(11);641-3
An unusual case of dysphagia, retained Groningen valve" – SI Basha, LH Durham .JLO 2002.116: 392-394 ( A case report)
An unusual presentation of Cat Scratch Disease" – case report and review. J McEwan, S I Basha, S Rodgers, P Harkness. JLO 2001: 115: 826-828
Education & Training
MBBS: December 1992
MBBS
MS (ENT)
FRCS-oto
FRCS or lHNS
CCT (ENT)
Expertise
General ENT – adults and Paediatric
Paediatric airway disorders
Paediatric swallowing disorders
Repairs of Laryngeal Clefts and Laryngeal stenosis
Management of Drooling children
Routine and advanced Otology
Cochlear Implantation
Implantable Hearing aids
Routine and advanced rhinology
Endoscopic DCR surgery
Anterior skull base surgery
CSF leak repairs
Trans-Sphenoidal Pituitary Surgery
Thyroid and Parathyroid surgery
Salivary Gland Surgery
Pediatric Thyroid surgery
Laser ablation of Thyroid Nodules
Other ENT, Head and Neck Surgery Experts