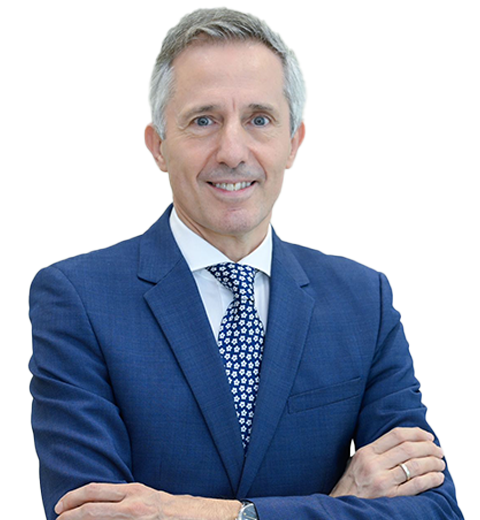 Dr. Joaquin Picazo-Veste
Head and Consultant of General Surgery
---
Years of Experience :
27
Nationality :
Spain
Languages Known :
Spanish, English, Arabic
Book Appointment
Biography
Dr. Joaquin Picazo-Veste received his Bachelor's degree in Medicine and Surgery (MBBS) from the Murcia University in Spain and a Doctoral Degree (PhD) from Complutense University, Madrid, Spain. He then gained several specialized training as additional qualifications for his career. These included a post-doctoral training in general and digestive surgery, certificate in bariatric and metabolic surgery, Master's qualification in Medical Direction and Health Care Management, Expert's qualification in clinical units' management, category c qualification in experimental animal studies management and the ATLS Certificate in Advance Trauma Life Support as well as the BLS Certificate in Basic Life Support. He completed further training at MD Anderson Cancer Center in Houston, Texas (USA) and at the European Pancreas Center, University Hospital in Heidelberg (Germany), focused on pancreatic diseases.
Dr. Joaquin commenced his career practice in 1995 as Attendant Surgeon at the La Mancha-Centro General Hospital, Spain. He served in this position for over a decade during which period, he also worked as the Director for the training of resident doctors and as the Chairman of the Teaching Commission (2005-2015). In 2006, he gained a position as Vice-Chairman of Surgery, Department of General and Digestive Surgery and the Head of Abdominal Wall Unit at the same hospital. He has served as Board Member of the Spanish Committee for Abdominal Wall Surgery. For the last 20 years, he has also maintained a dedicated scientific and research commitment, with numerous peer-reviewed published papers, including some innovative surgical techniques related to pancreatic, laparoscopic, and abdominal wall surgery. Re-locating to the Middle East, Dr. Picazo then served as Consultant General Surgeon at a leading hospital in Riyadh, Saudi Arabia for 4 years before returning to his earlier hospital in Spain, where he took up the position of Attendant Surgeon. From this immediately previous position at La Mancha Centro General Hospital, he moved to Burjeel Medical City as General Surgeon.
Awards & Achievements
Certificate – Bariatric & Metabolic Surgery – Spanish Surgical Association
ATLS - Certificate in Advance Trauma Life Support - American College of Surgeons, Madrid, Spain
BLS - Certificate in Basic Life Support - American Heart Association, Madrid, Spain
Research & Publications
Dr Joaquin has published many research papers, abstracts, and publications, mostly in Spanish language
He has also participated in over one hundred well-known conferences and conventions, in some of which he was invited to be the speaker at these assembling of world's finest experts in the specialty
Education & Training
MBBS
Ph.D.
MS (Medical Direction and Health Care Management)
Expertise
Digestive Surgery (Esophagus, Stomach, Pancreas, Spleen, Small Bowel, Colon and Rectum).
Bariatric and Metabolic Surgery.
Endocrine surgery (Thyroid, Parathyroid, Adrenal).
Complex Abdominal Wall Surgery (Inguinal and Ventral Hernias).
Advanced Laparoscopic Surgery.
Oncologic Surgery (Digestive Malignancies).
Scarless Laparoscopic Cholecystectomy.
Video-assisted Thoracoscopic Sympathectomy for Palmar Hyperhidrosis.
Membership
Fellow of the American College of Surgeons - (FACS) - San Francisco, USA.
Fellow of the European Board of General Surgery - (EBSQ, Honorary) - Helsinki
Member of the European Hernia Society - (EHS-GREPA)
Member of the European Association of Endoscopic Surgery - (EAES)
Member of the Spanish Surgical Association - (AEC)
---
---
---
Other General Surgery Experts