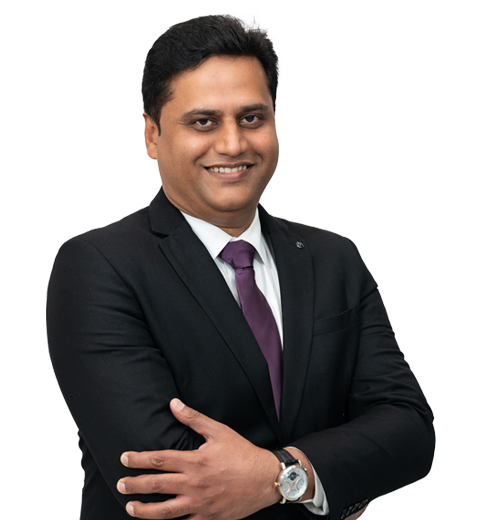 Dr. Rehan Saif
Director Transplant Surgery for Burjeel Abdominal Multi-Organ Transplant Program, Clinical Lead HPB Surgery, Consultant General Surgery
---
Years of Experience :
15
Nationality :
United Kingdom
Languages Known :
English, Hindi, Urdu, Kannada, Telugu
Book Appointment
Biography
Dr. Rehan Saif is an experienced Consultant General and Hepato-Pancreato-Biliary/Abdominal Multi-Organ Transplant Surgeon (Liver/Pancreas/Kidney) at Burjeel Medical City, Abu Dhabi. He completed his MBBS and MS (General Surgery) from JJM Medical College, India. His interest in HPB/GI Surgery and abdominal multi-organ transplantation led him to the United Kingdom, where he spent 12 years gaining further Specialist higher surgical training with a national training number leading to CCT (UK). He is the UK and European Board-certified HPB and Abdominal Multi-Organ Transplant Surgeon. He has also completed numerous fellowships in minimally invasive robotic HPB/GI surgery, complex liver surgery, and transplantation. In his previous post, Dr. Rehan was integral to a large multi-center abdominal transplant program that has completed close to four hundred liver transplants and numerous pancreas and kidney transplants in South India. He is also one of the few surgeons to have performed major robotic liver and pancreatic-biliary resections in India. With more than 15 years of experience in the field, Dr. Rehan is an expert in all aspects of hepatic-pancreato-biliary disease and abdominal multi-organ transplantation—liver, pancreas, and kidney transplantation. His areas of special interest include the management of hepatocellular carcinoma, complex gallbladder and biliary cancers, benign and malignant pancreatic disease, and minimally invasive (laparoscopic and robotic) HPB/GI surgery. A Fellow of the Royal College of Surgeons of Edinburgh, Dr. Rehan also has an active research interest with a research degree from Newcastle University, UK, and has published several scientific articles in leading international peer-reviewed journals.
Awards & Achievements
European Society for Organ Transplantation Diploma (HESPERIS)
Post CCT Fellowship in HPB Surgery & Transplantation (Institute of Transplantation, Freeman Hospital, Newcastle upon Tyne, UK)
Fellowship in Minimally Invasive Robotic HPB Surgery (UIC, Chicago, USA)
Fellowship in Liver Surgery & Living Donor Liver Transplantation (RCSEd Travelling Fellowship, Kaohsiung Chang Gung Memorial Hospital, Taiwan)
Education & Training
MBBS
MS (General Surgery)
MRCS
CCBST (UK)
FRCS
FEBS (HPB Surgery)
UEMS (European Board of Surgery)
CCT (UK)
Expertise
Liver transplantation (cadaveric and living donor)
Pancreas transplantation
Kidney transplantation
Minimally invasive (laparoscopic and robotic) HPB surgery
Complex liver surgery
Multimodality management of HCC
Surgery for portal hypertension
Surgery for pancreatic-biliary cancer
Management of acute and chronic pancreatitis
Membership
Founder Member Liver Transplantation Society of India (LTSI)
Clinical Robotic Surgery Association (CRSA)
International Laparoscopic Liver Society (ILLS)
International Liver Transplant Society (ILTS)
International Hepato-Pancreato-Biliary Association (IHPBA)
European Society of Organ Transplantation (ESOT)
Great Britain and Ireland Hepato-Pancreato-Biliary Association (GBIHPBA)
Pancreatic Society of Great Britain and Ireland (PSGBI)
Association of Upper Gastrointestinal Surgery of Great Britain and Ireland (AUGIS)
Living Donor Liver Transplantation Study Group
Association of Surgeons of India (ASI)
---
---
---
Other Burjeel Kidney Transplant Center Experts