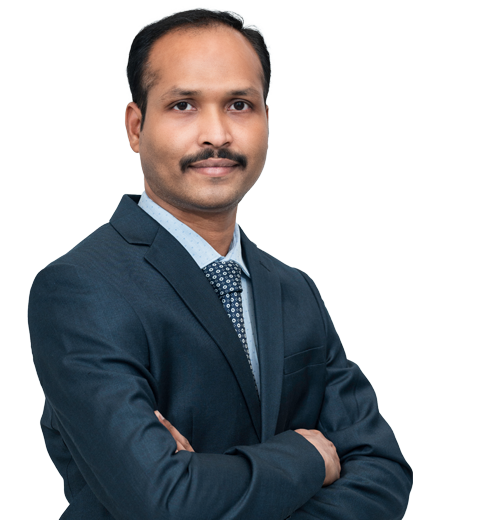 Mr. Arivarasan Karunanithi
Senior Neuro Physiotherapist
---
Years of Experience :
13
Nationality :
Indian
Languages Known :
English, Tamil, Hindi
+97180023
Biography
Arivarasan Karunanithi earned his Master Degree from Vinayaka Mission University in India and Bachelor Degree in physiotherapy from Dr. MGR Medical University in 2010. He has over 13 years of full-time experience in neurological rehabilitation. He began his career as a Junior physiotherapist at Christian Medical College and Hospital (NABH-accredited 2,500 beds) in India. Prior to joining Burjeel Medical City, he has worked as a Clinical Physiotherapist and led the physiotherapy team at Gleneagles Global Hospital (NABH-accredited 250 beds) in India for 9 years. He enhanced his subject knowledge through several accredited courses from domestic and foreign universities, including St. Augustine University in the United States, the Philippine Rehabilitation Institute, the University of Tasmania, and ISCoS in the United Kingdom. He successfully completed his Fellowship in a Radiology Course for Physical Therapist from the International Institute of Digital Teaching, India. In addition, he is a licensed Mulligan concept practitioner who practices manual therapy internationally. He is skilled and experienced in handling all modern, cutting-edge equipment in the field of neuro rehabilitation. In recognition of his outstanding contributions to the profession he has received many awards. He played an active role and performed as the stroke coordinator for one of the largest rehabilitation trials ever executed in India, the Attend Trial, which lasted for three years. The research paper was published in the prestigious medical journal The Lancet in 2017. Additionally, he received the outstanding stroke coordinator award for his performance on the trial. He organized numerous awareness campaigns and led Stroke Support Group and Parkinson Support Group at a state level to reclaim their livelihoods of many.
Awards & Achievements
Achievements: Physio Topper - State Level 2009
Gold Medalist - Master of Physiotherapy -2015
Outstanding Stroke Coordinator – Attend Trail (2013- 2016)
Best Physiotherapist Award from Indian Association of Physiotherapist (IAP) for exemplary contribution -2018.
Certified NIHSS-Group A-V3 Stroke Scale Accessor
Certified Manual therapist-Mulligan concept
Certified BLS provider
Certification on handling advanced rehabilitation equipment, like Walkbot -G, Primus RS, Vibramoov, Gait analysis, Hydrotherapy application.
Certification course on physiotherapy management of Spinal Cord Injury
Certification course on Multiple Sclerosis
Certification course on Health Research fundamental
Research & Publications
Family-Led Rehabilitation After Stroke in India (ATTEND) : a Randomised Controlled Trial – THE LANCET. (https://doi.org/10.1016/S0140-6736(17)31447-2).
"Retrieval of Clinical trial Data in the midst of a natural calamity" Experience from ATTEND TRIAL –Published on 10th world stroke congress .
Membership
The Indian Association of Physiotherapists
---
---
---
---
Other Physiotherapy, Pain Medicine & Advanced Rehabilitation Experts