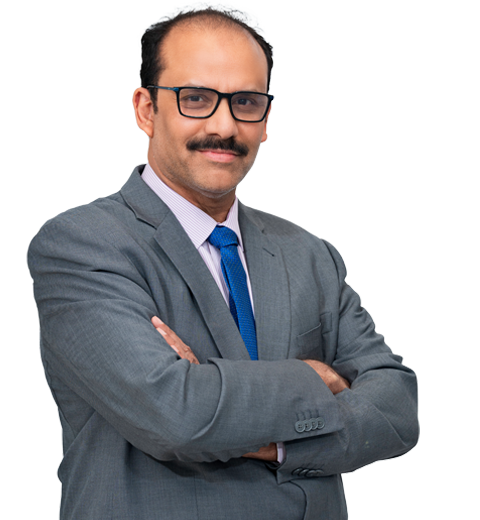 Dr. Zainul Aabideen
Consultant - Paediatric & Head of Paediatric Haematology, Oncology and BMT
---
Years of Experience :
25
Nationality :
United Kingdom
Languages Known :
English, Hindi, Malayalam
Book Appointment
Biography
Dr. Zainul is a highly skilled and experienced in Pediatric Hematology and Oncology. He received his Degree in Medicine at Calicut University in Kerala, India, subsequently he took his Post – Graduate Degree in Pediatrics from the University of Mumbai. In 2001, Dr. Zainul moved to the United Kingdom where he specialize and undertake further training and experience in pediatric hematology, pediatric oncology, and pediatric bone marrow transplantation in various hospitals in UK. Dr. Zainul gained his Master's degree in Pediatric Oncology at Birmingham University as well as Certificate in Medical Education at Manchester University. Subsequently, he completed his international Fellowship in Pediatric Bone Marrow Transplantation at Great North Children's Hospital in Newcastle. He worked previously as Consultant Pediatric at University Hospital of Coventry and Warwickshire and Royal Oldham Hospital before moving to UAE.
In the UAE, He had worked at Department of Pediatric Hematology and Oncology Tawam Hospital as Consultant, Al Ain, before he joined at Burjeel Medical City. Aside from his commitment to further advance his experience and knowledge in the field of pediatrics, pediatric hematology, oncology, and bone marrow transplantation in the United Kingdom he also published numerous articles and actively support by sharing his knowledge to the community by participating international conference across countries.
Awards & Achievements
Certification of Completion of Training (CCT) UK
International Fellowship in Bone Marrow Transplantation Great North Hospital Newcastle UK
Fellow of Pediatric Oncology at Royal Marsden Hospital London UK
Fellow of Pediatric Oncology Imperial College London UK
Fellow of Pediatric Oncology University of Hospitals of London (UCLH)
Research & Publications
Deep vein thrombosis in children. Aabideen K, Ogendele M, Ahmad I, Amegavie Pediatric Rep. 2013 Jun 19;5(2):48-9. Doi: 10.4081/pr.2013.e12. Print 2013 Jun 13. PMID: 23904967 Free PMC article.
A case of stage IV neuroblastoma in a child with congenital adrenal hyperplasia (CAH): a case report and review of literature. Lashkar HP, Aabideen K, Albanese A, Vaidya S.J Pediatric Hematol Oncol. 2012 Jul;34(5): e186-7. Doi: 10.1097/MPH.0b013e318257dc47.PMID: 22713710 Review.
Accidental staggered paracetamol overdose: An interesting case report. Aabideen K, Moulton LS, Sills J.J Pharmocol Pharmaco ther. 2011 Jul;2(3):189-90. Doi: 10.4103/0976-500X.83286.PMID: 21897715 Free PMC article.
Orbital cellulitis in children: a review of seventeen cases in the UK. Aabideen KK, Munshi V, Kumar VB, Dean F. Eur J Pediatric. 2007 Nov;166(11):1193-4. Doi: 10.1007/s00431-006-0387-6. Epub 2006 Dec 22. PMID: 17186269 No abstract available.
Successful treatment of gastrointestinal mucor mycosis in an adolescent with acute lymphoblastic leukemia (ALL). Aabideen K, Lashkari HP, Holmes K, Taj M. Pediatric Blood Cancer. 2012 Feb;58(2):312-3. Doi: 10.1002/pbc.23255. Epub 2011 Jul 25. PMID: 21793182 No abstract available.
Factors influencing the outcome of pediatric cardiac surgical patients during extracorporeal circulatory support. Balasubramanian SK, Tirupati R, Amin M, Aabideen KK, Peek GJ, Sosnowska AW, Firmin RK. J Cardiothoracic Surg. 2007 Jan 11; 2:4. Doi: 10.1186/1749-8090-2-4.PMID: 17217529 Free PMC article.
Membership
Member International Society of Pediatric Oncology (SIOP)
Member British society of Hematology (BSH)
Fellow of Royal College of Pediatric and Child Health (UK)
Fellow of Higher Education Academy UK
---
---
---
---
Other Pediatric Hematology Experts