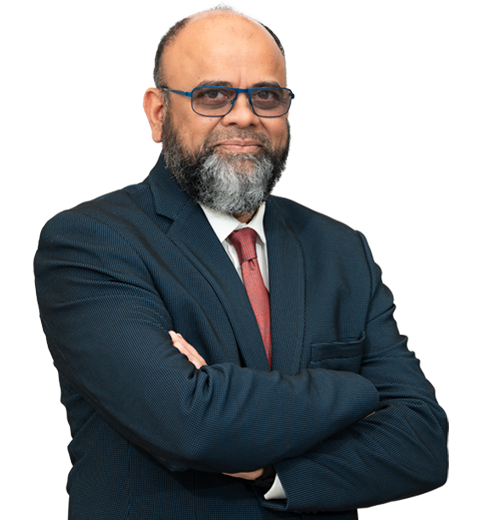 Dr. Taj Mohammed Fiyaz Chowdhry
Consultant Thoracic Surgeon
---
Years of Experience :
15
Nationality :
United Kingdom
Languages Known :
English
Book Appointment
Biography
Dr. Taj Mohammed Fiyaz Chowdhry is a highly qualified and accomplished Thoracic Surgeon whose educational background displays a list of achievements. Dr. Taj Mohammed Fiyaz Chowdhry is a Consultant Thoracic Surgeon with expertise across several sub-specialties in the discipline. Some of the areas of his strength include minimally invasive thoracic surgery, thoracic oncological resections including segmentectomies, video (uniportal)/robot-assisted thoracic surgery, non-intubated video-assisted thoracic surgery (NIVATS), cardiothoracic trauma surgery, difficult airway surgery, lung volume reduction surgery, endobronchial valves, chest wall surgery, medical school education, virtual reality education, among others. His 15+ years of clinical experience is also another asset that he pursues, taking an active role in the research and development of strategic sustainability solutions for healthcare institutions. Before reaching his current position as Consultant Thoracic Surgeon, Dr. Chowdhry served as Senior Trainee, Fellow, and LAT at several leading hospitals in the UK for over a decade of his career practice. He will be leading the Thoracic Surgical Team at Burjeel Medical City.
Research & Publications
Penetrating Trauma of the Chest - Journal Royal College of Surgeons
Extra-Pleural Pneumonectomy for Mesothelioma - The SCTS Ionescu University, Volume 1.
Spontaneous ventilation in Thoracoscopic surgeries (VATS), early experience. University hospitals of Leicester, Leicester, UK. Journal of Cardiothoracic and Vascular Anesthesia Volume 33, Supplement 2, September 2019, Pages S126-S127.
Diabetes Increases Apoptosis and Necrosis in the Ischemic and Non-ischemic Human Myocardium: Role of Caspases and Poly (ADP-ribose) Polymerase. The Journal of Thoracic and Cardiovascular Surgery. 2007 Jul;134(1):124-31.
How can we optimize an NHS Thoracic Surgical Unit's financial situation? - Presentation at the SCTS meeting, Belfast, March 2017.
Pulmonary Resections for In-Situ and Minimally Invasive Adenocarcinoma in the elderly: Prognostic Factors for Mortality and Recurrence - Department of Thoracic Surgery, University Hospitals of Leicester, UK.
Intra-operative Frozen section diagnosis of the suspicious solitary pulmonary nodule, how can we improve the strike-rate? Journal of Cardiothoracic Surgery. 2013; 8 (Suppl 1).
In patients undergoing lung resection for non-small cell lung cancer, is lymph node dissection or sampling superior in terms of long-term survival and staging? Interactive Cardiovascular and Thoracic Surgery 13 (2011) 311-315.
Clinical outcomes of pneumonectomy in octogenarians. Thoracic Surgery Department, Nottingham City Hospital Poster presented at the SCTS meeting, Belfast, March 2017.
Right Cervical Cannulation for Extra-Corporeal Membrane Oxygenation - Video on the CTS net Website, 2014.
Intra-operative Frozen Section Diagnosis of suspicious Solitary Pulmonary Nodule: How can we improve the strike-rate? - Journal of Cardiothoracic Surgery. 2013
Benign Mediastinal Masses, Do we really need to operate? A single canter analysis - Presentation at the SCTS meeting at Belfast, March 2017.
Education & Training
MBBS
MD
FRCS
FRCSCTh
CCT
MBA
Membership
General Medical Council
The Royal College of Surgeons of England
Society of Cardiothoracic Surgeons of Great Britain
Medical Defense Shield