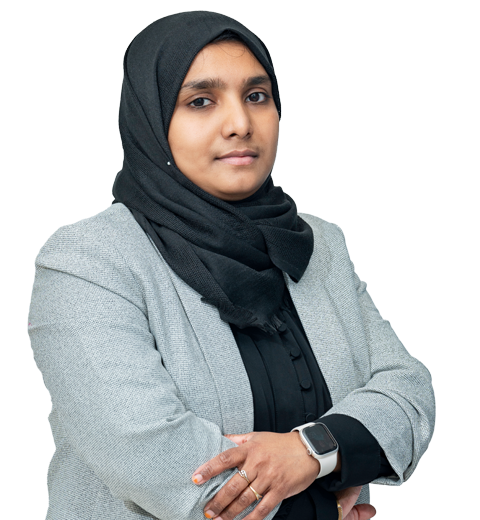 Dr. Safna Arshad
General Practitioner
---
Years of Experience :
6
Nationality :
India
Languages Known :
English, Malayalam, Hindi
Book Appointment
Biography
A highly disciplined and confident student throughout her academic days, Dr. Safna Arshad cherished her dream of becoming a reputed doctor and she moved a step closer to her dream when she received her admission to the China Three Gorges University for her MBBS qualification. An exemplary student and quick learner, Dr Safna soon added the first degree MBBS to her credit and proceeded to do the Internship at the Government General Hospital Ernakulam, Kerala, India, during which period she received a thorough training in several clinical and surgical procedures. Subsequently, Dr. Safna joined as a Resident Medical Officer at Indira Gandhi Cooperative Hospital, Kannur, Kerala, India. While there, she efficiently managed the CCU and ICU and assisted the faculty in gynecological and surgical operations. She also had the opportunity to participate in the implementation of the National Immunization Programs and supervised several pain and palliative programs. Thereafter, Dr. Safna served as Resident Medical Officer at Rahma Hospital, Kozhikode, Kerala, India which specializes in Mother and Child Care. She worked in Departments of Emergency Medicine and Gynecology where she dealt with procedures of normal deliveries, assisted c-section, sterilization, D and C, IUI, to name a few. She also received extensive exposure in handling emergencies – RTA, thermal injuries, and acute coronary syndrome. Later in her career, Dr. Safna worked as Resident Medical Officer, Indira Gandhi Hospital, Kannur, Kerala, India and received all-round experience in several departments including emergency care. Re-locating to the UAE, Dr. Safna acquired the mandatory HAAD License as General Medical Practitioner and began her first employment at Abu Dhabi Stem Cell Center. At Abu Dhabi Stem Cell Center, Dr. Safna Arshad took pride in serving the country by being part of offering stem cell treatment to Covid positive patients. By 2021, Dr. Safna had moved on to take up the assignment as General Practitioner in the ICU Department of Novomed Plastic Surgery Hospital where she proved herself effective in the management of post-surgical IP patients. An astute observer with keen diagnostic skills, Dr. Safina's expertise in physical evaluations, treatment plans, and disease management was exemplary at this hospital.
Awards & Achievements
ACLS – Advanced Cardiac Life Support Certification – American Heart Association
BLS – Basic Life Support Certification – American Heart Association
Other General Medicine Experts