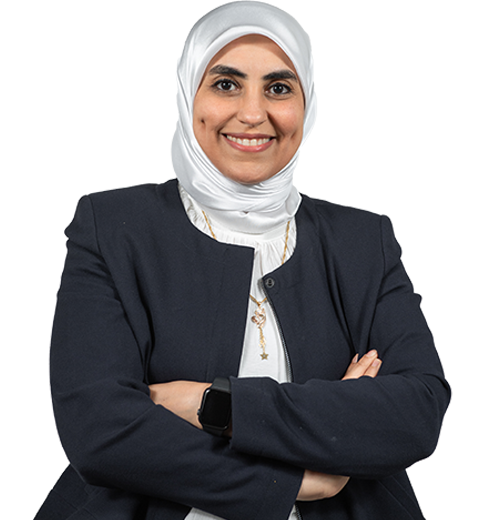 Dr. Reham Mohamed Aboushady
Specialist Obstetrics & Gynecology
---
Years of Experience :
20
Nationality :
Egypt
Languages Known :
Arabic, English, French, Turkish
Book Appointment
Biography
Dr. Reham Mohamed Aboushady is a Specialist in Obstetrics and Gynecology holding an impressive academic background. She successfully passed Part 1 of the MRCOG and obtained an M.Sc. in Gynecology & Obstetrics from Cairo University, along with an MBBCH from the Faculty of Medicine at Cairo University. She also obtained a Diploma in aesthetic gynecology from American Association of Continuous Medical Education. She has also attended the 4th Annual International Aesthetic Gynecology conference held in Cairo in 27 & 28th of July 2023. Dr. Reham proficiency spans a broad spectrum of obstetrics and gynecology services. Her skills encompass thorough patient history-taking, precise physical examinations, and adept ultrasound diagnosis. She specializes in a range of delivery methods, including vaginal, assisted vaginal, and instrumental deliveries, showcasing her commitment to maternal and infant care. Her surgical capabilities extend to various operative obstetric procedures, including cesarean sections, episiotomies, and complex tear repairs. With a focus on emergency medical obstetrics, she excels in managing critical cases such as ectopic pregnancies and complicated ovarian cysts. Dr. Reham is skilled in office procedures such as family planning, IUD insertion, hormonal injections, and extends to hysteroscopic procedures like endometrial biopsy, polypectomy, myomectomy, and treatment of Asherman syndrome. She also encompasses infertility assessments, hormonal inductions, and protocols for enhancing fertility. Furthermore, she provides holistic care for peri-menopausal and post-menopausal patients, ensuring their well-being through annual check-ups and physical examinations. Before joining Burjeel, she has served as an Obstetrics & Gynecology specialist at NMC Royal Hospital in Khalifa City, Abu Dhabi and Mediclinic Hospital. Dr. Reham's passion for women's health and her extensive skill set make her an invaluable asset in the field of obstetrics and gynecology. 
Education & Training
MRCOG Part 1
M.Sc. in Gynecology & Obstetrics Cairo University
MBBCH, Faculty of medicine Cairo University
Expertise
Pregnancy follow up
High risk pregnancy
Pregnancy ultrasound
3D/4D ultrasound
Managing preterm deliveries and miscarriages
Diagnosing and managing infertility and assisted reproductive techniques, addressing different gynecological problems
Performing various obstetrics and gynecological surgeries
Minimally invasive procedures
Contraception
Family planning
Cosmetic gynecology
---
---
---
---
Other Obstetrics and Gynecology Experts