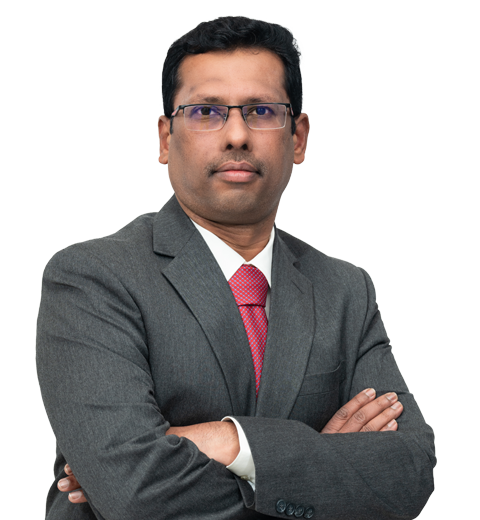 Dr. Ramamurthy Ganesan Baskaran
Consultant Anesthesiology & Transplant Anesthesia
---
Years of Experience :
17
Nationality :
India
Languages Known :
English, Hindi, Tamil, Kannada
Book Appointment
Biography
Dr. Ramamurthy is a skilled anesthesiologist with more than 17 years of post-qualification experience in transplant anesthesia (liver and kidney), HPB surgery, trauma, oncology, bariatric, obstetrics, orthopedics, robotic, and GI surgery. He is well-versed and experienced in neonatal and pediatric anesthesia and advanced ultrasound-guided regional anesthesia. After receiving his MBBS from Kilpauk Medical College in Chennai, Tamil Nadu, India, he completed his anesthesia training at King George Medical University in Lucknow, India. He continued his career advancement in the UK by joining the West Yorkshire Anesthesia Rotation in Leeds, which led to his Fellow of the Royal College of Anesthetists and a certificate of completion of training in Anesthesia. During his final years of training, he was heavily involved in upper GI, HPB, transplant anesthesia, and critical care. He returned to India and worked at Global Hospitals and Aster DM Healthcare in Bengaluru, where he managed hundreds of kidney and liver transplants with a multidisciplinary team. He has extensive experience managing cadaveric and living donor kidney and liver transplants. His most recent position was as Consultant Anesthesiologist at NMC Royal Hospital, Khalifa City, an active tertiary care hospital in Abu Dhabi that provides anesthesia to all surgical subspecialties.
Awards & Achievements
Organized the Annual NMC Anesthesia CME on January 17, 2020, in Abu Dhabi and Presented the Topic on Perioperative Hypersensitivity Reactions - Update
Chairperson of the Hospital CPR Committee at Aster CMI Hospital, Bengaluru, and Actively involved in Resuscitation Training and Auditing Hospital Staff on BLS and ACLS
Lead Anesthesiologist for the First Combined Pancreas Kidney Transplant at Global Hospitals, Bengaluru, which was an Important Milestone for Solid Organ Transplantation in the State of Karnataka, India (2015)
Part of the Anesthetic Team for the First Domino Liver Transplant in Karnataka - March 2017
Instrumental in Forming Teams and Setting Up Liver Transplant Units in Various Private Hospitals and Medical Colleges in India, along with Framing Policies and Guidelines for these Units
Advanced Training in HPB Surgery, Liver and Kidney Transplant Anesthesia - UK
Expertise
Ultrasound-guided regional anesthesia
Difficult airway management
Emergency trauma care
Preoperative assessment
Anesthesia at remote locations - endoscopy, Cath lab, MRI, and CT
Acute pain services and labor epidural analgesia
Anesthesia for robotic surgeries, major GI, and oncology surgeries
High-risk obstetric anesthesia
Bariatric anesthesia
Transplant anesthesia and preoperative workup
Pediatric and neonatal anesthesia
Membership
Indian Society of Anesthesiology (ISA)
Karnataka Medical Council, India
General Medical Council, London UK
The Royal College of Anesthetists, London, UK
British Association of Indian Anesthetists, UK
International Liver Transplantation Society (ILTS)- Reviewer for ILTS Journal
Obstetric Anesthetist Association (OAA) - UK
Association of Anesthetists Great Britain and Ireland (AAGBI)
Other Anesthesiology Experts