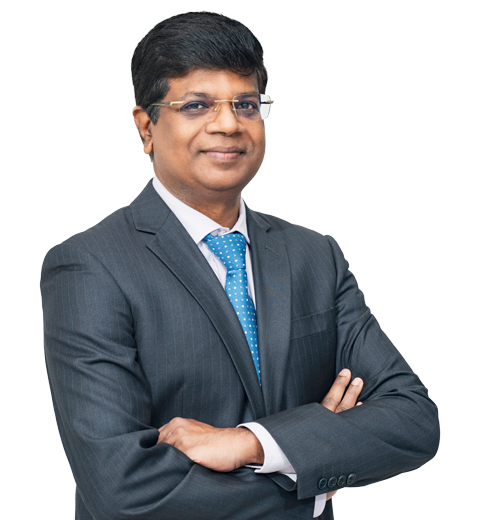 Dr. Rajasekhar Cingapagu
Specialist Pediatric Surgery
---
Years of Experience :
26
Nationality :
India
Languages Known :
English, Telugu, Hindi
Book Appointment
Biography
Dr. Rajasekhar Cingapagu is a Consultant, Pediatric Surgery at Burjeel Medical City, Abu Dhabi, with a unique background of specialization seldom found as commonplace. He has chosen the very delicate areas of pediatrics, namely, neonatal surgery, pediatric surgery, pediatric urology, and as his focus's points for intensive medical science practice. After acquiring a basic MBBS degree, Dr. Rajasekhar garnered the MS and MCh qualifications as post-graduate credentials. A Fellowship followed this in Advanced Pediatric Laparoscopic Surgery from Adelaide, Australia, and a Diploma in Advanced Laparoscopic Surgery from Strasbourg, France.At the end of his academic and professional training, Dr. Rajasekhar emerged as a Specialist in Pediatric Surgery with extensive knowledge of hypospadias surgery, enuresis management, management of vesicoureteric reflux, hydronephrosis management, undescended testis, hernia and hydrocele, urodynamic study, circumcision, neonatal surgeries, thoracoscopic surgeries, pediatric urology, neonatal surgery, and advanced pediatric laparoscopic surgery. Dr. Rajasekhar is a qualified Member of the International Pediatric Endo-Surgery Group, Indian Association of Pediatric Surgeons, UAE Pediatric Surgery Society, and the Societies of Pediatric Laparoscopic Surgery, Pediatric Urology, and Pediatric Urodynamic Study. An expert communicator in English, Hindi, and Telugu, Dr. Rajasekhar has a track-record of successfully treating a number of complex cases within the specialty, including cases of traumatic A-V fistula overhead and its surgical excision, excision of oral teratoma in a new-born, bowel volvulus with meconium ascites in a new-born, which is considered a very rare anomaly and a congenital bilateral ovarian torsion with hemorrhagic cysts in a newborn, the laparoscopic excision of which placed the procedure as the 3rd in the world in medical science literature. As is evident, the 26 years of Dr. Rajasekhar's professional career marked by milestones of advanced methodologies and surgical interventions are a set of solid assets in the service of any multi-disciplinary, tertiary hospital. Burjeel Medical City, Abu Dhabi, is proud to own this valuable resource in its neonatal and pediatric departments.
Awards & Achievements
Fellowship in Advanced Pediatric Laparoscopic surgery Adelaide, Australia
Diploma in Advanced Laparoscopic Surgery, Strasbourg, France
Research & Publications
Intussusception in Children – King George Hospital, Vizag, Experience – IAPS 2004
Waardenburg Syndrome – A rare anomaly 
Malignant Germ Cell Tumors in Children – Presentation and Management Strategies IAPS – 2006
Bilateral Ureterocele – Management and Outcomes – Pediatric Urology, WCH, Adelaide, Australia – 2009
Antenatal Hydronephrosis – A Study of 150 cases 2007-2010, Pediatric Urology, WCH, Adelaide Australia 2009
Education & Training
MBBS
MS
MCH (Pediatric Surgery)
Membership
Member of the International Pediatric Endo-surgery Group
Indian Association of Pediatric Surgeons
UAE Pediatric Surgery Society
Member of Society of Pediatric Laparoscopic Surgery, Pediatric Urology and Pediatric Urodynamic Study
---
---
---
---