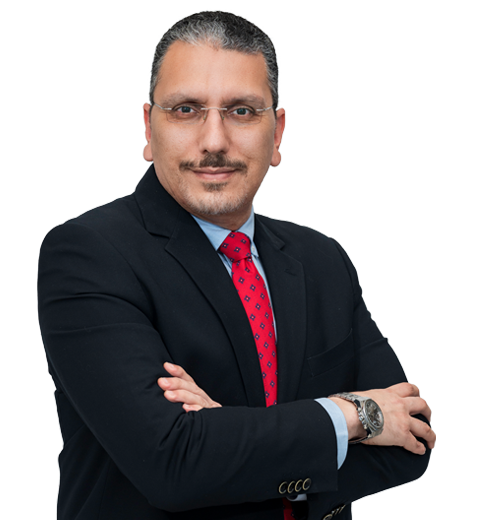 Dr. Mohamed A. Elzoghby
Consultant Neurosurgery
---
Years of Experience :
22
Nationality :
Egypt
Languages Known :
Arabic, English
Book Appointment
Biography
Dr. Zoghby graduated from Ain Shams University, Cairo, Egypt, with Bachelor's degree of Medicine and Surgery (MBBCh) in December 2000 with Honors. He then he completed his Neurosurgical residency at Ain Shams University Hospital, a well-constructed general Neurosurgery practice followed by higher surgical training including rotations in different subspecialties and was awarded Master's degree of Surgery in 2005. Being one of the best residents, Dr. Zoghby was awarded a clinical-research Fellowship in the University of Virginia, USA, 2008-2010, fully funded by the Supreme Council of Egyptian Universities, for the fulfillment of his Doctorate degree Thesis. During that time, he joined the neuroendocrine and skull base division under supervision of two of the pioneers in pituitary surgery, Prof. John Jane Jr., and Prof. Edward Oldfield. He then returned to Egypt, passed his board exams, and got his doctorate degree, top of his class in 2011. Dr. Zoghby is currently an Associate Professor in Ain Shams University, Cairo Egypt, he is one of the well-known Neurosurgeons in Egypt, he subspecializes in neuroendoscopy, pituitary, skull base surgery. He has also introduced intraoperative ultrasound guided tumor resection upon his return from USA. He actively participated in multiple local, regional, and international conferences and has numerous publications in highly reputable scientific journals. Dr. Mohamed Elzoghby has overall 20 years of work experience in the field of neurosurgery with special expertise in pituitary surgery and neuro-oncology. For the last 3 years he practiced in a high-ranking private hospital in Jeddah, KSA and in Tawam Hospital, Al Ain, UAE. He is a licensed Neurosurgery Consultant in Egypt, KSA and UAE. Recently, he joined the Burjeel Holdings and is currently practicing as Consultant of Neurosurgery, at Burjeel Medical City, Abu Dhabi.
Awards & Achievements
Post-Doctoral Instructor of Neurosurgery, Neuroendocrine and Skull-Base Division, University of Virginia, Charlottesville, Virginia, USA, 2016
Neuroendocrine and Skull-Base Clinical-Research Fellow, University of Virginia, Charlottesville, Virginia, USA, 2008-2010
Awarded by the Supreme Council of Egyptian Universities, a Fully Funded Clinical Research Fellowship in the University of Virginia for a Combined Supervision Scholarship for Doctorate Degree Thesis in 2007
Honored by the Head of the Department of Neurosurgery in for Being One of the Best Residents After Completion of the Neurosurgical Residency Program in Ain Shams University, Faculty of Medicine in 2005
Awarded by the Minister of High Education in for Being One of the Top Medical Students after Completion of Medical School in 2002
Awarded by the Scientific Society of Ain Shams University and Faculty of Medicine in Feb 1996 for Active Participation in the Thirteenth Annual Scientific Conference of Ain Shams Universities and Winning the Second Position
Research & Publications
Ibrahim A, Ghany WA, Elzoghby MA, El-Shazly A, Simry H, Fakhr MA. Ultrasound-guided versus traditional surgical resection of supratentorial gliomas in a limited-resources neurosurgical setting. Egyptian Journal of Neurosurgery; Dec 1;33(1):24. 2018.
Jamshidi AO, Beer-Furlan A, Prevedello DM, Sahyouni R, Elzoghby MA, Safain MG, Carrau RL, Jane JA, Laws ER. A modern series of subdiaphragmatic craniopharyngiomas. Journal of Neurosurgery; Oct1; 1:1-6, 2018
Shepard MJ, Elzoghby MA, Kiehna EN, Payne SC and Jane JA: Presentation and Outcomes in Surgically and Conservatively Managed Pediatric Rathke Cleft Cysts. Journal of Neurosurgery: Pediatrics; Dec 22:1-7, 2017.
Shepard MJ, Elzoghby MA, Ghanim D, Lopes BS, and Jane JA.: Transsphenoidal surgery for mixed pituitary gangliocytoma-adenomas. World Neurosurgery; 108: 310-316, 2017.
Elzoghby, MA, Hewedi, IH, Eid, YM: Endoscopic Extracapsular Resection of Functioning Pituitary Adenomas: Technique and Early Outcomes. Ain Shams Medical Journal; 2017
Elzoghby, MA and Mohamed HA: Ultrasound Guided Resection of High-Grade Gliomas. Ain Shams Medical Journal; 2017
Elzoghby, MA, Shepard, MJ, Kiehna, EN, Payne, CS, Jane Jr., JA: Endoscopic Endonasal Transsphenoidal Fenestration of Rathke's Cleft Cysts in Children. Journal of Neurological Surgery – Part B; 78(S): S19-S20, 2017.
Pledger, CL, Elzoghby, MA, Oldfield, EH, Payne, SC and Jane Jr, JA: Prospective comparison of sinonasal outcomes after microscopic sublabial or endoscopic endonasal transsphenoidal surgery for nonfunctioning pituitary adenomas. Journal of Neurosurgery; 125:323-333, 2016.
Elzoghby, MA, and Abdelbaky, A: Functional Outcomes following Surgical Management of Intradural Extramedullary Spinal Cord Tumors. The Egyptian Spine Journal; 16:14-21, 2015.
Esene, IN, Ngu, J, Elzoghby, M, Solaroglu, I, Sikod, AM, Kotb, A, Dechambenoit, G and El Husseiny, H: Case series and descriptive cohort studies in neurosurgery: the confusion and solution. Child's Nervous System, 30(8):1321-1332, 2014.
"History of Pituitary surgery" In: Endoscopic Pituitary Surgery: Endocrine, Neuro-Ophthalmologic, and Surgical Management. Schwartz T.H. and Anand V.K. (eds): Thieme Medical Publishers Inc. (In Press, ISBN:9781604063479)
Esene, IN., Maher, A, Elzoghby, MA, El-Bahy, K, Kotb, A and El-Hakim, A: Diagnostic performance of the medial hamstring reflex in L5 radiculopathy. Surgical neurology international; 3:104-109, 2012.
Jane Jr, JA, Starke, RM, Elzoghby, MA, Reames, DL, Payne, SC, Thorner, MO, Marshall, JC, Laws Jr, ER and Vance, ML. Endoscopic transsphenoidal surgery for acromegaly: remission using modern criteria, complications, and predictors of outcome. The Journal of Clinical Endocrinology & Metabolism; 96(9):2732-2740, 2011.
"Evaluation of Minimally Invasive Approaches for Pituitary Macroadenoma Surgery" Thesis defense for partial fulfillment of Doctorate degree in Neurosurgery. This was a Joint Supervision Thesis between Ain Shams University - Egypt, and The University of Virginia - USA, aiming at evaluation of safety and efficacy of two of the most used minimally invasive approaches for pituitary surgery; The Endoscopic Endonasal approach and The Supra Orbital Transcranial approach.
"Surgical Management of Facial Nerve Injuries" M.Sc. essay, for partial fulfillment of master's degree in surgery, Ain Shams University. This was an essay aiming at highlighting the serious problem of posttraumatic Facial nerve injuries and its impact upon the patient and his quality of life. Together with searching for the best methods of prevention and the most recent modalities of treatment.
Education & Training
MBBCh
M.Sc., MD (Neurosurgery)
Expertise
Brain Tumors and Neuro-Oncology
Neurosurgical Endoscopy
Minimally Invasive Skull Base Surgery
Endoscopic Pituitary Surgery
Stereotactic Surgery
Intracranial Hemorrhage
Pediatric Neurosurgery
Degenerative Disease of the Spine
Spine Fractures
Spinal Cord Tumors
Peripheral And Cranial Nerve Surgery
Membership
Egyptian Society of Neurological Surgeons (ESNS) Since 2012
American Association of Neurological Surgeons (AANS) Since 2014
Congress Of Neurological Surgeons (CNS), Tumor Section Since 2015
---
---
---
---
Other Neurosurgery Experts