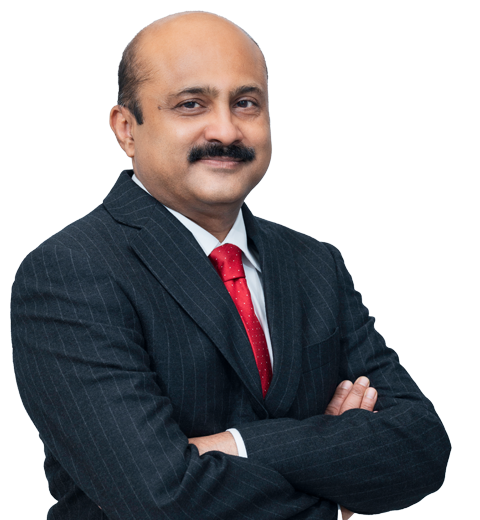 Dr. Krish Venkatesh
Consultant Pediatric Gastroenterology
---
Years of Experience :
16
Nationality :
United Kingdom
Languages Known :
English, Hindi, Kannada, Telugu
Book Appointment
Biography
Dr. Krish Venkatesh is a Consultant Pediatric Gastroenterologist with more than 16 years of experience in the field. He graduated from Karnataka Medical College, Hubli, India. Following a postgraduate degree in pediatrics (MD) from Mysore Medical College, Mysore, India, he moved to the United Kingdom for further training. After completing training in pediatric gastroenterology, hepatology, and nutrition, he worked as a Consultant Pediatric Gastroenterologist at Alder Hey Children's Hospital, Liverpool, and as an Honorary Lecturer at the University of Liverpool for more than five years. Dr. Venkatesh was the Chief of the Pediatric Gastroenterology department at Alder Hey Children's Hospital. He was also the nominated Lead for Endoscopy and Nutrition. Dr. Venkatesh has several first-author papers and book chapters to his credit. He has presented his research at several national and international conferences.
Research & Publications
Venkatesh K, Abou-Taleb A, Cohen M, et al. A new method in the diagnosis of reflux esophagitis : Confocal endomicroscopy. Gastrointest Endosc. 2012 Apr;75(4):864-9
Venkatesh K, Abou-Taleb A, Cohen M, et al. Role of confocal endomicroscopy in the diagnosis of Coeliac Disease. J Pediatr Gastroenterol Nutr. 2010 Sep;51(3):274-9
Thomson M, Venkatesh K, Elmalik K et al. Double balloon enteroscopy in children: diagnosis, treatment, and safety. World J Gastroenterol. 2010 Jan 7;16(1):56-62
Venkatesh K, Abou-Taleb A, Cohen M, et al. Feasibility of Confocal Endomicroscopy in the Diagnosis of Pediatric Gastrointestinal Disorders. World J Gastroenterol. 2009 May 14;15(18):2214-9
Venkatesh K, Cohen M, Akobeng A,et al. Diagnosis and Management of the 1st reported case of Esophageal, Gastric and Small Bowel Heterotopia in the Colon using Confocal Laser Endomicroscopy. Endoscopy. 2009;41 Suppl 2:E58. Epub 
Venkatesh K and Playfor S. Current patterns of Propofol use in PICU in the United Kingdom and North America. Pediatr Anesth 2004; 14:501-4
Education & Training
MBBS
MD (Pediatrics)
MRCPCH
FRCPCH
CCD (Pediatric Gastroenterology, Hepatology, Nutrition)
Expertise
Recurrent Abdominal Pains
Chronic Constipation and/or Fecal Incontinence
Loose Stools/Diarrhea and Blood in Stools
Recurrent Vomiting with and without Blood
Gastro-Oesophageal Reflux
Celiac Disease
Difficulty in Swallowing
Jaundice
Failure to thrive, Poor Oral Intake, and Weight Loss
Pancreatitis
Abdominal Bloating
Patients Needing PEG Placements
Neurological Patients with Feeding Issues/Reflux Symptoms
Gastroscopy
Colonoscopy
Foreign Body Removals
Polyp Removals
Percutaneous Endoscopic Gastrostomy (PEG) Tube Insertion
Management of Gastrointestinal Bleeding
Urea Breath Test
Hydrogen Breath Test
Ph Impedance Studies
Anorectal Manometry
Hida (liver) Scans
---
---
---
---