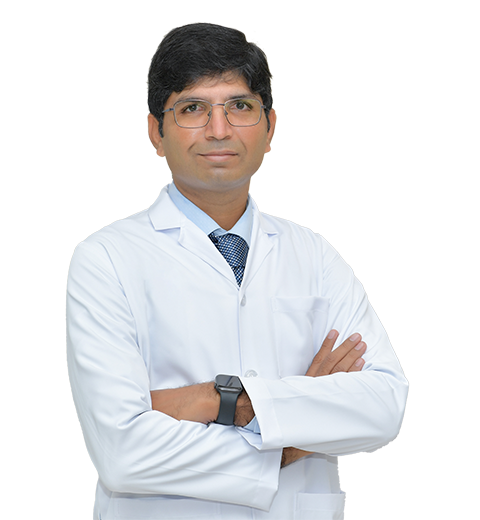 Dr. Kesava Ananth Ramakrishnan
Consultant Pediatric Intensive Care Unit
---
Years of Experience :
20
Nationality :
United Kingdom
Languages Known :
English, Tamil, Telugu
Book Appointment
Biography
Dr. Kesava is a Pediatric Intensivist with more than 20 years of experience in pediatric critical care. After completing the basic specialist training in Pediatrics in India, he pursued higher specialist training in pediatric critical care medicine in the UK and Australia. Following which, he worked in a tertiary care university hospital as a consultant in PICU for 8 years before moving to UAE. In the UAE, he worked as head of cardiac PICU in Sheikh Khalifa Medical City for 4 and half years before moving to Burjeel Medical City. He is passionate about patient safety, quality of care, training/education of staff and efficiency of the service. He has implemented the following projects in the previous four years:
Benchmarking cardiac surgical outcomes
Admission policy incorporating risk stratification that has cut down the delay in admission of children with critical congenital heart disease
Early extubating policy
Rational chest drain removal policy
Bundle for reduction in PCICU LOS
Bundle for prevention of cardiac arrest
Home monitoring program for palliated patients until second stage surgery
Organized seminars on congenital heart disease
Hands on training workshop on pediatric CRRT
In the UK he was part of a dynamic team, which achieved high patient satisfaction and outcome despite expansion of service from 600 admission to over a 1000 admissions per year. He was a Lead Consultant for clinical practice development and research within the team. Under his leadership, the team participated in many multicentre trials including CHIP, STePS, CATCH, THAPCA and ADAPT. Dr. Kesava is competent in managing critically ill children from any cause. He has special expertise in postoperative care of children particularly in the area of congenital cardiac surgery. He is an expert in mechanical ventilation, renal replacement therapy and procedures such as central line insertion etc. He is also proficient in management of children on VA and VV ECMO.
Research & Publications
Anticytokine autoantibodies in a patient with a heterozygous NFKB2 mutation. Ramakrishnan KA, Rae W, Barcenas-Morales G, Gao Y, Pengelly RJ, Patel SV, Kumararatne DS, Ennis S, Döffinger R, Faust SN, Williams AP. J Allergy Clin Immunol. 2017 Dec 7. pii: S0091-6749(17)31882-1. doi: 10.1016/j.jaci.2017.11.014. [Epub ahead of print]. PMID: 29225085
Precision Molecular Diagnosis Defines Specific Therapy in Combined Immunodeficiency with Megaloblastic Anemia Secondary to MTHFD1 Deficiency. Ramakrishnan KA, Pengelly RJ, Gao Y, et al. Journal Allergy Clinical Immunology: In Practice
Precision treatment with sirolimus in a case of activated phosphoinositide 3-kinase δ syndrome. Rae W, Ramakrishnan KA, Gao Y, Ashton-Key M, Pengelly RJ, Patel SV, Ennis S, Williams AP, Faust SN. Clin Immunol. 2016 Jul 19;171:38-40. doi: 10.1016/j.clim.2016.07.017. [Epub ahead of print] 
Mucosal-Associated Invariant T (MAIT) Cells Are Impaired in Th17 Associated Primary and Secondary Immunodeficiencies. Gao Y, Rae W, Ramakrishnan KA, Barcenas-Morales G, Döffinger R, Eren E, Faust SN, Ottensmeier CH, Williams AP. PLoS One. 2016 May 11;11(5):e0155059. doi: 10.1371/journal.pone.0155059. eCollection 2016. PMID: 27167980
Education & Training
MBBS
MD
CCT (Critical Care Medicine)
CCT (Pediatrics)
Membership
Fellow of Royal College of Pediatrics and Child health UK
Member Society of Critical Care Medicine (USA)
Member Pediatric Intensive Care Society (UK)
Member Difficult Airway Society (UK)
---
---
---
---