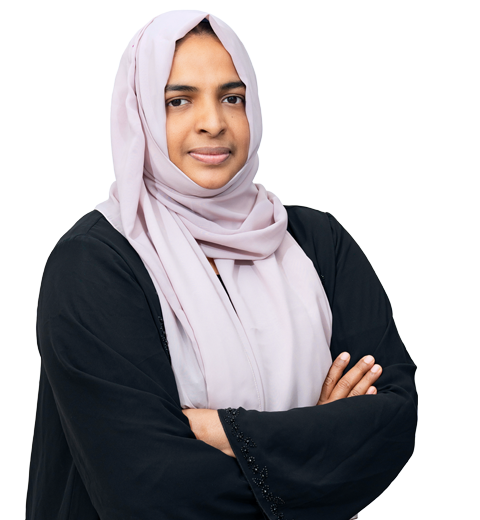 Dr. Haseena M Hanif
General Practitioner
---
Years of Experience :
15+
Nationality :
Indian
Languages Known :
English, Hindi, Malayalam, Arabic
Book Appointment
Biography
Dr. Haseena M she worked as Junior registrar at VPS Lakeshore hospital, addressing the needs of medical Gastroenterology and comprehensive liver care sub-specialties. At the Comprehensive Liver Care Clinic, she worked on the patients awaiting liver transplants and their donors with counselling and patient care. She also categorised them into MELD and CHILD scores following the protocols. Dr. Haseena's duties also covered pre-operative evaluation, optimization of laboratory values, medications and provision of health education, dietary and physiotherapy instructions, and assistance in transplant surgeries, critical care, radiology and gastroenterology care. Some of the specifics she focused on, include assisting donor hepatectomy, graft revascularizations, liver transplantation and abdomen closure. She also monitored the patients and donors in the ICU, their vitals, fluid and electrolyte balance and took time to reassure the families. At the micro level, she ensured that the receiver and donor patients were administered immune-suppressants, antibiotics, and reported the clinical condition of each case with investigation reports to the chief consultant, microbiologist and critical care doctors. In 2017, Dr she joined a leading private-sector hospital where she efficiently supervised and assisted in the IP/OP and Casualty environments. As Casualty Medical Officer, she handled duties including clinical examination, evaluation, admissions, referrals, investigations, clinical rounds, follow-up care of patients and similar assignments. In addition, other works from minor-to-major medico-surgical procedures – suturing minor cuts, wounds, C&D injuries, I&D abscess were also under her care. Her accurate and compassionate patient care and treatment initiatives helped the hospital maintain high-quality medical services even under a busy OP environment that handled up to 100 patients per day. She was also in-charge of routine administrative work of issuing medical certificates, registering & reporting infectious diseases to the department of social & preventive medicine and updating of monthly stats of patient footfall. At the early period of her career, she worked for the Government Medical Hospital at Alapuzha, Kerala, as an Intern and received thorough training in clinical medicine, patient care, treatment, hospital administration and quality healthcare practices. This formed the foundation of her career progress in the latter years. She has also taught junior medical students, new interns and nurses at the Comprehensive Liver Care Clinic at VPS Lakeshore Hospital and trained several volunteers at medical camps as well.
Research & Publications
Gastroenterology – Conducted case presentations, journal presentations and training of new Registrars on the techniques of screening USG, large volume paracentesis and similar subjects at the Department of Gastroenterology.
Education & Training
MBBS – Bachelor of Medicine, Bachelor of Surgery –Government TD Medical College, Alapuzha, under the University of Kerala
Higher Secondary School Certificate – Science Stream – Maria Montessori Central School, Alapuzha, India. IELTS – Academic Band 7.5
HAAD-MP- Health Authority Abu Dhabi – Department of Health Licensing Examination - General Practitioner
Membership
Member – Travancore-Cochin Medical Council, Trivandrum, Kerala-India
Other General Medicine Experts