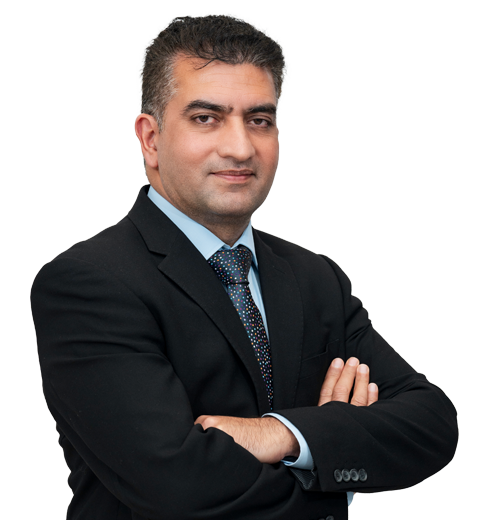 Dr. Ghulam Mujtaba
Consultant Pediatric Pulmonology
---
Years of Experience :
20
Nationality :
Ireland
Languages Known :
English, Urdu, Punjabi, Hindi
Book Appointment
Biography
Dr. Mujtaba is a Consultant Pediatric Pulmonologist with 20 years of experience in pediatrics and pediatric pulmonology with various prestigious institutions in the NHS UK and Health Service Executive (HSE), Ireland. Before joining Burjeel Medical City, Dr. Mujtaba served as a Consultant Pediatric Pulmonologist at Royal Manchester Children's Hospital, where he was clinical lead (HOD). Dr. Mujtaba is committed to providing a high-quality clinical and academic service for respiratory pediatrics to all who attend our service for investigation, care, and management. Dr. Mujtaba developed various guidelines both for cystic fibrosis and respiratory service. He has presented at European Respiratory and Cystic Fibrosis Conferences and participated in national and international clinical trials in the UK and Ireland as Principal Investigator and Co-investigator. Dr. Mujtaba has been an invited speaker at regional, national, and international conferences. He was a clinical and educational supervisor for pediatric and respiratory trainees in the UK. Dr. Mujtaba has also been an honorary clinical lecturer and academic advisor for medical students at the University of Manchester. 
Awards & Achievements
Finalist, Clinical Team of the Year Award at Royal Manchester Children Hospital June 2019
Lead for One of the Largest Paediatric Respiratory Department in UK 2020-2022
Lead for Interstitial Lung Disease services for Greater Manchester UK
Audit Lead for paediatric Respiratory Department at Royal Manchester Children Hospital
Finalist, Clinical Team of the Year Award at Royal Manchester Children Hospital June 2019
Research & Publications
Trends in asthma diagnosis and usage of asthma medications in children with cystic fibrosis – are we looking for it? June 2022. A. Maitra, H. Chaudry, J. Gooch, G. Mujtaba. Journal of cystic fibrosis: 21:S95 DOI:10.1016/S1569-1993(22)00443-X
Cystic fibrosis children not eligible for modulators therapy – data from a tertiary paediatric centre in Northwest United Kingdom June 2021. G.Mujtaba, J.Edgar, A.Shawcross. A.Maitra. Journal of cystic fibrosis: 20:S55-S56 DOI:10.1016/S1569-1993(21)01084-5
Parental perspectives on sending respiratory tract specimens for microbiology from home in children with cystic fibrosis - experience from a tertiary service provider in the northwest United Kingdom. June 2022. A. Maitra, J. Orme-Lumsdon, C. Thornton, O. Lamptey, N. Moss, A. Shawcross, G. Mujtaba. Journal of cystic fibrosis 21:S106 DOI:10.1016/S1569-1993(22)00479-9
Transition to adult care in children with cystic fibrosis – experience over a decade from a large tertiary centre in the northwest United Kingdom June 2022. A. Maitra, Y. Tang, A. Myrtle, J. Gooch, A. Shawcross, S. Wilkinson, G. Mujtaba. Journal of cystic fibrosis: 21:S138 DOI:10.1016/S1569-1993(22)00583-5
Detection and management of nontuberculous mycobacteria in cystic fibrosis patients in a tertiary paediatric centre June 2021. H. Wayman, · E. Yu, O. Lamptey, · G. Mujtaba,· A. Maitra,· A. Shawcross. Journal of cystic fibrosis:DOI:10.1016/S1569-1993(21)01186-3
An evaluation of the cystic fibrosis newborn screening service at Royal Manchester Children's Hospital - experience from a tertiary service provider in Northwest United Kingdom June 2021 Journal of cystic fibrosis: 20:S45 DOI:10.1016/S1569-1993(21)01048
Short gut syndrome and Bacterial Overgrowth in Children with Cystic Fibrosis, our Experience" G. Mujtaba, E. Sheppard, S. Crook, L. Costello, E. Skelton, A.Maitra. June 2019 Published in Journal of Cystic Fibrosis https://doi.org/10.1016/S1569-1993(19)30606-X
Use of gastric acid lowering agents in children with cystic fibrosis - are we over treating?" G.Mujtaba, S.Sehabi. A.Maitra June 2019 Published in Journal of Cystic Fibrosis https://doi.org/10.1016/S1569-1993(19)30579-X
"Pleural effusion: Think outside the Box -PRSS1 pancreatitis presenting as pleural effusion with mediastinal shift" Adnaan Kala, Natalie Francis, Rabin Mohanty, Ghulam Mujtaba, Dalia Belsha ESPGHAN (European Society of Paediatric Gastroenterology Hepatology and Nutrition) 459680806/ESPGHAN-52nd-Annual-Meeting-Abstracts
Behavioural problems in children with Cystic Fibrosis- Are we really looking for it? A. Maitra1,2, Z. Begum2, J. Edgar1, A. Shawcross1, G. Mujtaba1 1Royal Manchester Children's Hospital 2University of Manchester Journal of Cystic Fibrosis, Abstract Publication. https://doi.org/10.1016/S1569-1993(19)30698-8
Oral Steroids versus Pulsed Methylprednisolone in Allergic Bronchopulmonary Aspergillosis - 10 years' experience from a large tertiary Paediatric Cystic Fibrosis centre L. Buttarazzi1 , C. Fullwood, G. Mujtaba1, J. Edgar , C. Thornton , O. Narayan A. Maitra https://doi.org/10.1016/S1569-1993(19)30462-X
Chest pain in Children Cause for Concern but is it for ED European Society of Paediatric Research, Newcastle upon Tyne, October 14, 2011 – October 17, 2011, G. Mujtaba, J.Awan, C.Martin AMNCH Tallaght . Presented at IPA 20 April 2012/Paediatric Research Academy UK
CF admission trends in two tertiary centres in London and Spain David Pastana, Ghulam Mujtaba etal Presented at Spanish Paediatric Pulmonology Meeting June 2015
Role of Ursodeoxycholic acid in CF related liver disease G. Mujtaba, P.Greally, B.Elnazir Presentation in European Paediatric Research Society Oct.14-17 2011, Newcastle UK Published in Paediatric Research at nature.com https://doi.org/10.1038/pr.2011.759
Case report on Pancreatico Pleural Fistula, Published and presented in ESPGN 2019
Screening for Developmental Dysplasia of the Hip: Current Practices in Ireland O'Grady MJ , Mujtaba G , Hanaghan J , Gallagher D Published in I.J.Med Science PMID: 19408041
Education & Training
Member of Royal College of Paediatrics and Child Health London UK
Higher Specialist Training Pediatric (CCT) _Certificate of Completion of Training, Republic of Ireland
Clinical Fellowship Pediatric Pulmonology, Great Ormond Street Hospital, London UK
General Professional Training Paediatrics Republic of Ireland
MRCPI, (Membership of the Royal College of Physicians of Ireland) Royal College of Physician Ireland
Diploma in Child Health, Glasgow UK
Bachelor's Degree in medicine and Surgery MBBS, Pakistan
Expertise
Asthma
Chronic Cough
Respiratory Infections
Bronchiectasis
Flexible Bronchoscopy
Interstitial Lung Disease
Cystic Fibrosis
Snoring and Sleep Disordered Breathing
Primary Ciliary Dyskinesia
Airway Related Disorders and Ventilation Experience both Non-Invasive and Long-Term Ventilation Paediatric lung functions Paediatric sleep medicine Complicated lung infections including management of empyema. Allergy related breathing problems Chronic lung disease
Membership
British Paediatric Respiratory Society (BPRS)
European Cystic Fibrosis Society (ECFS)
European Respiratory Society (ERS)
Royal College of Paediatrics and child health (RCPCH)
---
---
---
---