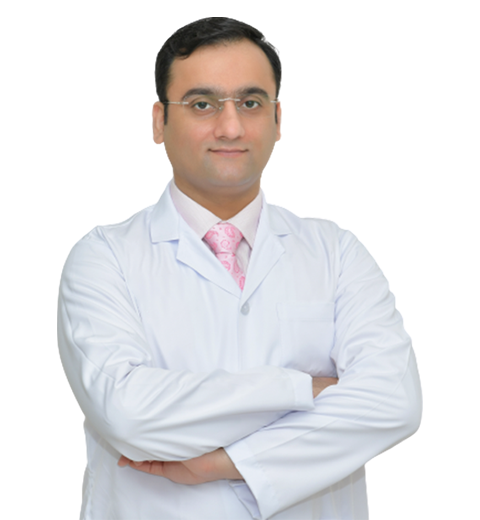 Dr. Abhishek Wadhawan
Specialist Anesthesia
---
Years of Experience :
8
Nationality :
India
Languages Known :
English, Hindi, Punjabi
Book Appointment
Biography
Dr. Abhishek Wadhawan has eight years of rich experience in anesthesiology and critical care medicine. He worked at ESI Medical College, Fortis Escorts Hospital, Park Super Specialty Hospital, and Sarvodaya Hospital and Research Center in India before moving to the UAE. His primary areas of interest are neuro anesthesia, obstetric anesthesia, GI, robotic surgery, pediatric, orthopedic, and trauma surgery, and joint replacement surgery. He is experienced in labor epidurals, ultrasound-guided regional anesthesia, complex airway management, handling trauma, and emergency care. He specializes in critical care medicine with antibiotic stewardship, POCUS, echocardiography screening, and ARDS.
Awards & Achievements
Poster Presentation at National Airway Conference, Vadodara (AIDAA)
Paper Presentation at 64th Annual National Conference of Indian Society of Anesthesiologists, Ludhiana, Punjab
First Prize in Platform Presentation at Campaign on University Research and Training (COURT), D.Y. Patil Medical College
Research & Publications
International Journal of Advanced Research, March 2016, Vol.4, Issue 30. Anesthesia for emergency cesarean section in a patient with PD. A (Congenital Acyanotic Heart Disease)
Indian Journal of Anesthesia (IJA), August 2016. Effective management of post-labor analgesia post-Dural puncture headache with mannitol
MJDYP, 2017. A comparative study of hyperbaric bupivacaine 0.5% versus hyperbaric bupivacaine 0.5% with neostigmine in intrathecal anesthesia for post-operative anesthesia for infraumbilical surgeries
Expertise
Neuro anesthesia and critical care
Pediatric anesthesia
Anesthesia for once, GI, and robotic surgeries
High-risks obstetric anesthesia and labor epidural
Ultrasound-guided regional anesthesia
Anesthesia for remote location
Emergency and trauma care
Preoperative assessment
Difficult airway management
Percutaneous tracheostomy
Anesthesia for orthopedic, joint replacement, and polytrauma
Intensive care management
Antibiotics stewardship
POCUS
Advanced hemodynamic monitoring
Membership
Life Member of the Indian Society of Anesthesiologists
Life Member of All India Difficult Airway Association
Life Member of the Indian Society of Critical Care Medicine
Life Member of the Indian Medical Association
Member of the European Society of Intensive Care Medicine
Other Anesthesiology Experts