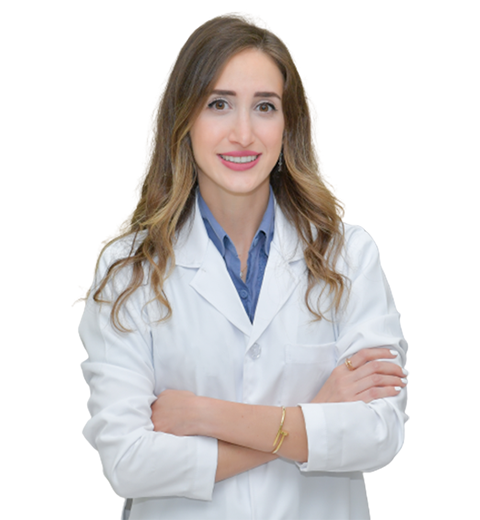 Dr. Sandrine Hage
Specialist Emergency Medicine
---
Years of Experience :
6
Nationality :
Lebanon
Languages Known :
Arabic, French, English
Book Appointment
Biography
Dr. Sandrine is a French Lebanese doctor who graduated from Saint-Joseph University in Beirut in 2016 and then joined the American University of Beirut Medical Canter (AUBMC) for her residency where she completed four years of training to graduate as an Emergency Medicine Specialist. Prior to joining, Dr. Sandrine Hage worked as an Emergency Medicine Specialist at the American University of Beirut Medical Canter (AUBMC) in Beirut as well as Mediclinic WellCare Hospital, Dubai. She is experienced in diagnosing and managing all medical and surgical emergencies involving adults and children. Her core competencies include managing all critically ill patients (cardiac arrest, shocks, respiratory distress, seizures/status epilepticus, acute coronary syndromes, strokes, and major polytrauma), airway management, procedural sedation, point of care ultrasound, as well as bedside procedures (suturing, abscess drainage, central line insertion, chest tube insertion, abdominal tap, pleural tap, lumbar puncture, and joints dislocation reduction). She also possesses DOH and DHA licenses as a Emergency Medicine Specialist. She's a multi-linguist who is proficient in Arabic, French and English. Dr. Sandrine is also a fitness enthusiast. On the research and publications side, Dr. Sandrine has published her distinguished work in peer-read journals and presented research papers at various international conferences, seminars, and workshops. She has also worked on medical education, and quality improvement projects. As a Specialist Emergency Medicine at Burjeel Medical City, she brings with her, a record of exceptional expertise and experience in her field of specialization. 
Awards & Achievements
Basic Life Support (BLS)
Advanced Cardiovascular Life Support (ACLS)
Advanced Trauma Life Support (ATLS)
Pediatric Advanced Life Support (PALS)
Neonatal Resuscitation Program (NRP)
Central Venous Catheter Insertion Certification - Duke University Hospital
Collaborative IRB Training Initiative (CITI)
Team STEPPS
USMLE step 1 in August 2016
USMLE step 2 CS in January 2017
IFOAM exam part 2 in January 2017
Abu Dhabi DOH license in August 2021
Dubai DHA license in October 2021
Research & Publications
Musculoskeletal Disorders in Hemodialysis Patients: Different Disease Clustering According to Age and Dialysis Vintage - N. Clinrheumatol, 2020
Atypical Presentation of Gangrenous Cholecystitis: A Case Series. Am J Emerg Med., 2018
Out of Hospital Cardiac Arrest in Beirut: Impact of Gender on Out of hospital Cardiac Arrest Outcomes - Ongoing Publication Delegate - Lebanese Research Forum – Beirut, 2017
Delegate - Mediterranean Academy of Emergency Medicine Congress "MAEMC 2018"
Speaker – Pre-Hospital Management of Acute Emergencies Course for Civil Defense Division of EMS, The American University of Beirut Medical Center, Beirut - 2019 \ Delegate - 3rd International Red Sea Emergency Medicine Conference "RSEM 20" - 2020
Delegate - The 10th MENATOX Clinical Toxicology Conference - 2021
Lecturer - EM Weekly Conference – Throughout Residency Period
Education & Training
French Baccalaureate (Life Sciences)
Doctor of Medicine (MD)
Residency Program (Emergency Medicine)
Membership
Member – Beirut Marathon Medical Team - 2017
Member - AAEM/RSA (American Academy of Emergency Medicine / Resident and Students Association) – 2017-2021
Member - LeMSIC-SCORE (Lebanese Medical Students' International Committee - Standing Committee on Research Exchange) – 2009-2011
1Member – Students Council – Alumni of School of Medicine, St Joseph University – 2009-2010
Member - Lebanese Order of Physicians, Beirut – Since Jan 2021
Other Emergency Medicine Experts