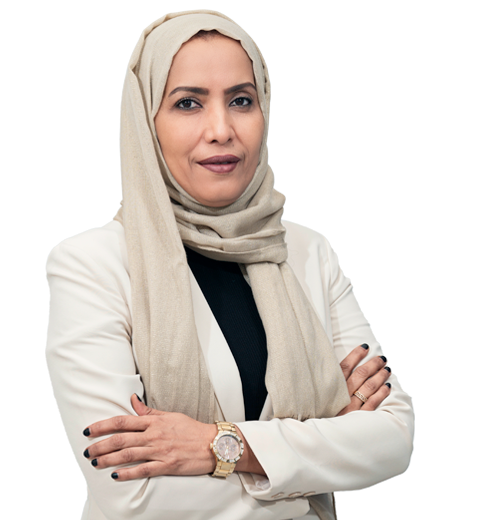 Dr. Reem Elbakri
Consultant Psychiatry
---
Years of Experience :
10
Nationality :
Sudan
Languages Known :
English , Arabic
Book Appointment
Biography
Dr. Reem Elbakri qualified in MBBS from the Faculty of Medicine at the University of Ahfad, Sudan and progressed to earn an MD (Doctor of Medicine) Degree in Psychiatry from the Sudan Medical Specialization Board in 2013. She is also a Specialist in Psychiatry, certified by the Dubai Health Authority (DHA) and by the Health Authority of Abu Dhabi (HAAD).
As for her career track-record, Dr. Reem Elbakri worked for Yas Clinic and the Berlin Medical and Neurological Rehabilitation as a Specialist – General Adult Psychiatry where she addressed the analysis and evaluation of patient data, examination of the findings for diagnosis, assessment of the nature and the extent of the mental disorders in the patient and managed direct administration of psychotherapeutic treatments and medications. She worked with diverse cases of mental, emotional, and behavioral disorders which were referred to her.
On many occasions Dr. Reem professionally collaborated with teams of physicians, psychologists, social workers, psychiatric nurses, and other professionals to discuss treatment plans and progress in a number of cases in the specialty. During the treatment process, she was successful in gathering and maintaining patient information, records as well as the medical/social history on the cases – obtained from the patients, their family members and other professionals who had interacted with them earlier. An expert at counselling and guidance of patients, Dr. Reem paid attention to detail in the design of customer-specific treatment plans across a variety of cases.
Prior to her joining as Specialist – Adult Psychiatry in Sudan, Dr. Reem worked for Rashid Hospital, Dubai, as Specialist Registrar, General Adult Psychiatry, and for the Ministry of Health, and the Ministry of Defense, Sudan, across where she served two terms – first as Resident- Psychiatry and the second term as Psychiatry Specialist.
Apart from Dr. Reem's clinical experience, she holds extensive academic teaching experience as well. She was an able teacher and guide for short courses of Psychiatry to medical students at the University of Khartoum, Alzaim Alazhari University, University of Alfasher, and the Alahfad University.
She has also released an article in the Journal of Psychiatry and has attended a number of Conferences and Workshops about her specialty.