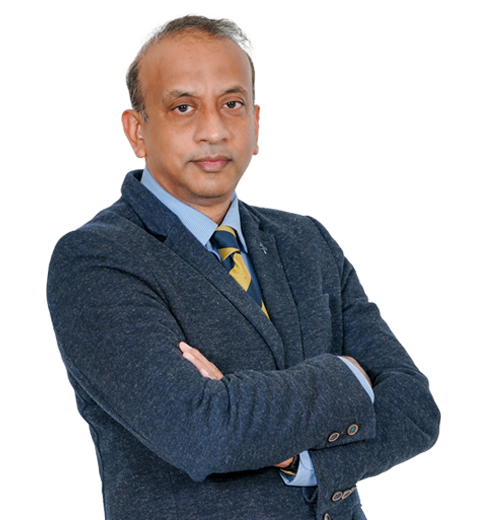 Dr. Prasad Sadanand Kothari
Consultant Otolaryngology, ENT Head & Neck Surgery
---
Years of Experience :
30
Nationality :
United Kingdom
Languages Known :
English, Hindi, Marathi, Gujrati
Book Appointment
Biography
Dr. Prasad Sadanand Kothari has been practicing for more than 30 years in Otolaryngology and Head & Neck Surgery with dual qualifications in Dentistry and Medicine. He completed his higher surgical training in UK and fellowship in Head & Neck Surgery in Holland and India. He was awarded his CCT in 2007. He has been an ENT Consultant and Head and Neck Surgeon in the UK for 14 years before moving to UAE. His main specialization is Head and Neck Surgery for benign and malignant diseases and thyroid surgery. He also has an interest in swallowing and voice disorders. Dr. Prasad has over 35 publications in international journals and regularly presents and teaches at conferences. He is also on the board of examiners for the Royal College of Surgeons of England.
Awards & Achievements
CCT, UK
Glory of India Award for Services Rendered, 2012
Certificate of merit in Obstetrics & Gynaecology, 1998
Best Scientific Paper Prize, 1987, All India Oral & Maxillofacial Surgeons Conference
University Rank 3rd out of 160 Candidates in Final BDS, 1986, University of Bombay Certificate
Prize for Ranking 2nd out of 80 candidates in III BDS, 1985, University of Bombay Certificate
Oral Pathology Prize, 1985 Distinction in Oral Pathology
Distinction in Anatomy, 1983
Research & Publications
Howard J, Dwivedi RC, Masterton L, Kothari P, Quon H, Holsinger C "De-intensified adjuvant (chemo)radiotherapy versus standard adjuvant chemotherapy Post transoral minimally invasive surgery for resectable HPV-positive oropharyngeal carcinoma. Cochrane Database Syst. Rev 2018 Dec 14;12(12):CDO12939. doi: 10.1002/14651858.CD012939.pub2.
Haywood M, Masterton L, Vijendren A, KothariP, Iyngkaran T, Chan CH, Camilleri A Improving the efficacy of PET-CT imaging in head and neck cancer management and surveillance through the multidisciplinary team: A multicentre, retrospective cohort analysis of 51 patients. Clinical Otolaryngology. 2018:1-5
Vijendren A, Kothari P. Iyngkaran T, Masterson L, Silva S. Metastatic level 5 nodes of unknown primary. Do not overlook the Thyroid. Eur J Radiol. 2016 May;85(5):987-8. doi: 10.1016/j.ejrad.2016.02.029. Epub 2016 Mar 2.
Lakhani R, Loh Y, Zhang TT, Kothari P. A prospective study of blood splatter in ENT Eur Arch Otorhinolaryngol. 2015 Jul;272(7):1809-12. doi: 10.1007/s00405-014-3469-5. Epub 2015 Jan 25.
Narwani V, Nalamada K, Lee M, Kothari P. Lakhani R. Readability and quality assessment of internet-based patient education materials related to Laryngeal Cancer. Head Neck 2016 Apr;38(4):601-5. doi: 10.1002/hed.23939. Epub 2015 Jun 22
Education & Training
MBCHB
Master of Dental Surgery
Bachelor of Dental Surgery
Membership
FRCS (ORL, HNS)
FRCS (CSiG) (Cardiology Student Interest group)
FDSRCS
Other ENT, Head and Neck Surgery Experts