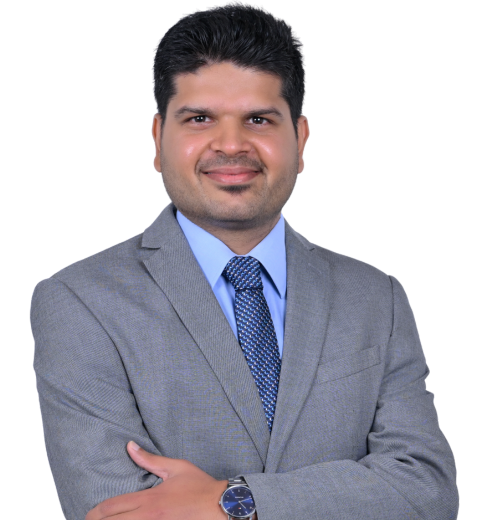 Dr. Harsumeet Singh Sidhu
Specialist Diagnostic Radiologist
---
Years of Experience :
9
Nationality :
India
Languages Known :
English, Hindi
80055
Biography
Dr.Harsumeet started his medical journey in 2008 at Vardhman Mahavir Medical College and Safdarjung Hospital, New Delhi, India, and was awarded a Bachelor of Medicine and Bachelor of Surgery degree in 2014. Afterward, I got enrolled in radiology training in 2014 at the prestigious institute PGIMER, Dr. Ram Manohar Lohia Hospital, New Delhi, and was awarded Doctor of Medicine (Radiodiagnosis) in 2017. After his post-graduation, he did his senior residency program of 3 years in the same hospital where he got the opportunity to experience the latest CT and MRI machines. It included working on 128 dual slice CT machines optimum for cardiac imaging, 3T MRI optimum for advanced sequences like perfusion, diffusion tensor imaging, cardiac imaging, and Voluson ultrasound machines for high-resolution sonography. he got enough experience while working in the government setup. Then joined as Attending Consultant at Max Super Speciality Hospital, Patparganj, New Delhi, in 2020. he was able to further refine his skills in the areas of brain stroke, oncology, and musculoskeletal. I worked there for one and a half years. In August 2022, I relocated to Abu Dhabi, UAE, and joined as Specialist Radiologist at Bareen International Hospital. After a few months, he joined Burjeel Medical City, Abu Dhabi, as Specialist Radiologist and now working with a team of highly specialized radiologists, physicians, and surgeons. His areas of expertise include,
Congenital Heart Disease CT imaging
Body Imaging CT and MRI
Musculoskeletal Imaging
Diagnostic Imaging Modalities
Conventional Radiography
Ultrasonography
Doppler Imaging
Computed Tomography
Magnetic Resonance Imaging
Reporting
Neurological
Respiratory
Musculoskeletal
Abdominal
Genitourinary Systems
Obstetrics and Gynecological Imaging
Awards & Achievements
European Diploma in Radiology
Diplomate of Indian College of Radiology and Imaging
Research & Publications
Sidhu HS, Guleria M. Cardiac CT in criss-cross heart. BJR Case Rep 2020; 6: 20200096.
Sidhu HS, Madaan PK. Herlyn-Werner-Wunderlich syndrome in a multiparous female. BJR Case Rep 2020; 6: 20200132.
Sidhu H, Kamal A. Giant renal leiomyoma: A case report. Radiol Case Rep. 2020;15:515-518.
Sidhu HS, Sandeep S. Primary anal malignant melanoma: A case report. J Radiol Oncol. 2020;4:001-004.
Sidhu HS, Guleria M. Cardiac CT in Coronary artery anomalies in tetralogy of Fallot. Indian J Appl Radiol. 2020;6(1):152
Madaan PK, Sidhu HS, Girdhar S, Mann KK. Pleuropulmonary blastoma: A report of three cases and review of the literature. Radiol Case Rep. 2021;16(10):2862- 2868.
Vohra P, Sidhu HS. Evaluation of diffuse lung diseases by high resolution computed tomography of the chest. Int J Res Med Sci. 2017;5:1655-1661.
Verma S, Kalra K, Rastogi S, Sidhu HS. Clinical approach to childhood mediastinal tumors and management. Mediastinum 2020;4:21.
Education & Training
2008-2014 MBBS Vardhman Mahavir Medical College and Safdarjung hospital, New Delhi
2014-2017 MD(RADIODIAGNOSIS) Dr Ram Manohar Lohia Hospital, New Delhi
2017- 2020 SENIOR RESIDENCY(RADIODIAGNOSIS) Dr Ram Manohar Lohia Hospital, New Delhi
Membership
Indian Radiological and Imaging Association
European Society of Radiology
British Institute of Radiology