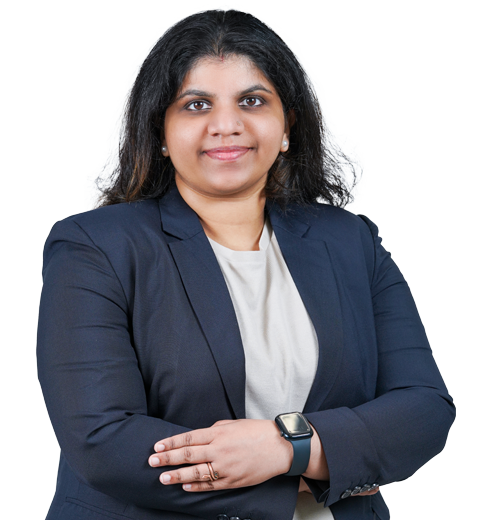 Ms. Ardra Sheela Krishna
Speech Therapist
---
Years of Experience :
7
Nationality :
Indian
Languages Known :
English, Hindi, Malayalam, Tamil
+97180023
Biography
Ardra has completed her Bachelor's and Master's degree in Audiology and Speech Language Pathology from National Institute of Speech and Hearing in India. She has more than 7 years of experience in multi-specialty hospitals. Her career objective is to provide culturally competent expert services to improve the quality of life of individuals with communication and swallowing disorders and to integrally engage in direct clinical services in the evaluation and resolution of communication and swallowing disorders across all levels. She handled lecture sessions and served as a dissertation co-guide for students of Post-Graduate Diploma in Clinical Child Development and IAP Fellowship in Development and Behavioral Pediatrics. She started her career as a dysphagia and voice specialist in Kerala Institute of Medical Science under the supervision of Dr. Jayakumar R Menon (Lead Phonosurgeon in South India) and gained Fellowship in Voice and Swallowing Pathology. She has completed numerous professional certification courses which focus on swallowing and voice disorders.
Awards & Achievements
Flexible Endoscopic Evaluation of Swallowing (FEES) interpretation and analysis from Swallowing and Neurological Rehabilitation, LLC, United States, Certified with Basic Life Support
Speak out and loud crowd provider, Trained by Dr Jayakumar R Menon on vocal function exercises
FEES
VLS
VSS
Research & Publications
Speech sound disorder can be an early predictor for Specific Learning Disability in the National Conference of Indian Speech and Hearing Association, February 2019 at NIMHANS, Bangalore, India.
A project named 'Assessment of differently abled children at Magic Planet Academy, India under Government of Kerala, India, Kerala Social Security Mission, Child development Centre, India in year of 2018.
Effectiveness of group intervention program in speech and language characteristics of children with Autism spectrum disorder aged 2-6 years in the year of 2017-2018.
Served as an editor for the publication of 'Autism resource Book for Professionals' under the guidance of Dr. Paul Russell, 2018.
Profiling of children diagnosed with speech and language disorders aged 3-6 years in the year of 2017-2018 reported at Child Development Centre, Kerala, India.
Manual on Vocal Care for Carnatic Singers in Malayalam: Development and Validation' Masters Dissertation (2014-2016).
'Communication Matrix- An assessment tool used in case of Autism Spectrum Disorder' in the Journal Club of MASLP academic year of 2014- 2016 at National Institute of Speech and Hearing.
Education & Training
Bachelor In Audiology and Speech Language Pathology
Master In Audiology and Speech Language Pathology
Fellowship in Voice and Swallowing Pathology
Membership
Department of Health- Abu Dhabi License Holder
Dubai Health Authority Professional License Holder
Rehabilitation Council of India License Holder
Indian Speech and Hearing Association Life Long Member
---
---
---
---
Other Physiotherapy, Pain Medicine & Advanced Rehabilitation Experts