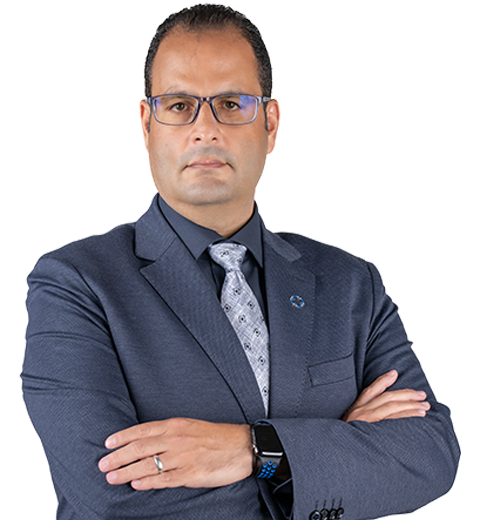 Dr. Mehdi Afrit
Medical Director ( Specialist Medical Oncology & Medical Director)
---
Years of Experience :
11
Nationality :
Tunisia
Languages Known :
Arabic , English , French
Book Appointment
Biography
Dr. Mehdi Afrit is a Medical Oncologist who practices at Burjeel Specialty Hospital in Sharjah. He has over 11 years of experience caring for and managing cancer patients. He has extensive experience providing chemotherapy, hormonal therapy, immunotherapy, and targeted therapy to patients. He earned a Certificate of Medical Oncology from the Gustave Roussy Institute in Paris, France, where he received training in antitumor chemotherapy and cancer medical treatment. Additionally, he holds an international certificate in breast diseases. He also has a certificate in Good Clinical Practice from Trans Celerate Biopharma Inc. and a certificate in Clinical Trial Management: Good Clinical Practice from the Faculty of Pharmaceutical Medicine of the Royal College of Physicians. He previously worked for over five years as an Assistant Professor of Medical Oncology at Tunis's Faculty of Medicine. He later practiced as a Consultant, Medical Oncologist for six years at Arianna's hospital in Tunisia. He later worked for two years as a Specialist Medical Oncologist at Zulekha Hospital. He was also an investigator in three international clinical trials and holds clinical trial auditing and CRO certifications and a GCP Training Certificate from 2016. He is a member in good standing of the Emirates Oncology Society (EOS), the European Society of Medical Oncology (ESMO), and the American Society of Clinical Oncology (ASCO). His clinical expertise includes but is not limited to the following:
Oncology care and treatment for chemotherapy, hormonal therapy, immune therapy, and target therapy
Breast cancer
Solid tumor diagnosis
Digestive cancer
Gynecological cancer
Lung cancer
Genitourinary cancer
Sarcoma
Awards & Achievements
Award from Himaya Foundations and University of Sharjah
Research & Publications
Clinicopathological Features of Gastric Cancer in a Cohort of Gulf Council Countries' Patients: A Cross-Sectional Study of 96 Cases. Journal of Oncology Research Reviews & Reports Volume 2(2): 1-3.
The Burden of Gynecologic Cancers in the UAE. Journal of Oncology Research Reviews & Reports Volume 2(4): 1-6.
The Emirates Oncology Task Force Clinical Practice Guideline on Screening for SARS-CoV-2 in Asymptomatic Adult Cancer Patients Before Anti-Cancer Therapy. Journal of Oncology Research Reviews & Reports Volume 2(4): 1-6.
The State of Cancer Care in the United Arab Emirates in 2020: Challenges and Recommendations, A report by the United Arab Emirates Oncology Task Force. Humaid Al-Shamsi, Humaa Darr, Ibrahim Abu-Gheida , Jawaher Ansari, Martine, Mehdi Afrit, Mohamad H Masri, Mohamed Abuhaleeqa. Gulf J Oncology 2020 Jan;1(32):71-87.
Primary Bone Lymphoma: Tunisian Multicentric Retrospective Study About 32 Cases. Ben Ayed C, Laabidi S, Said N, Afrit M, Ben Ahmed S, Boussen H. Tunis Med. 2018 May;96(5):269-272.
First Site of Recurrence After Breast Cancer Adjuvant Treatment in the Era of Multimodality Therapy: Which Imaging for Which Patient During Follow-up? Nesrine M, Mehdi B, Houda EB, Soumaya L, Mehdi A, Bechir Z, Hamouda B. Breast Dis. 2017 Nov 21.
---
---
---
---
Other Cancer and Oncology Experts