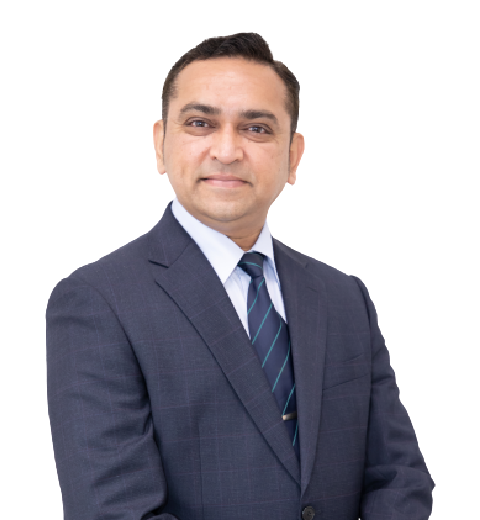 Dr. Jayant K Jhala
Specialist General and Laparoscopic Surgery
---
Years of Experience :
18
Nationality :
India
Languages Known :
English, Hindi, Urdu, Gujarati, Marathi, Sindhi
+97180055
Biography
Dr. Jayant is an Indian Board-certified specialist with a Master's in General Surgery. He completed his post-graduation in 2005 from a prestigious institution in Mumbai. Subsequently, he completed a fellowship in Advanced GI and HPB surgery at KEM Hospital, Mumbai. Dr. Jayant went to Coimbatore for training with Dr. Palanivelu, during which he earned an FMAS and a Diploma in Advanced Laparoscopic Surgery. He later pursued a fellowship in HPB and Liver Transplantation at Medanta – The Medicity. This is a tertiary care institute with 1500 beds, NABH certified, situated in Gurgaon, India. Since completing his fellowships, Dr. Jayant has been practicing in corporate hospitals across India. He also has international professional exposure, having worked in Oman, Saudi Arabia, and African countries like Nairobi and Tanzania, primarily in the field of medical tourism. Apart from his extensive experience and significant exposure to adult cases in both elective and emergency practice, Dr. Jayant is highly skilled in minimal/laparoscopic keyhole surgery. This expertise extends to both elective and emergency procedures. He holds valid medical licenses and memberships in medical associations in India and Oman.
Expertise
General and Laparoscopic Surgeries: Specializes in conditions concerning the stomach, liver, and gall bladder, including gall bladder stones/polyps, appendicitis, bowel perforations, and tumours.
Anorectal Minimal Invasive Surgeries: Offers minimal invasive surgeries for anorectal fistulas, piles (hemorrhoids), and fissures.
Surgeries for Pilonidal Sinus: Conducts surgeries for treating pilonidal sinus.
Shin and Integumentary Tumours/Ingrowing Toe Nails: Provides treatment for shin and integumentary tumours, and ingrowing toenails.
Ultrasound Guided Procedures: Provides ultrasound-guided procedures such as drain insertion, fine-needle aspiration cytology (FNAC), abscess drainages, and biopsies of the liver, thyroid, and other specific organs.
Endoscopies: Performs upper and lower gastrointestinal endoscopies, including procedures for foreign body removal, variceal banding, piles ligation, and biopsies.
Membership
IMC (Indian Medical Council)
AMASI (Association of Minimal Invasive Surgeons of India)
MMC (Maharashtra Medical Council)
ASI (Association of Surgeons of India)
Member of Oman Medical Council and Oman Surgeons Society
Member of the Society of Emergency Physicians, Oman
Past President of the Gujarat Surgical Society, India
---
---
---
Other General, Laparoscopic and Bariatric Surgery Experts