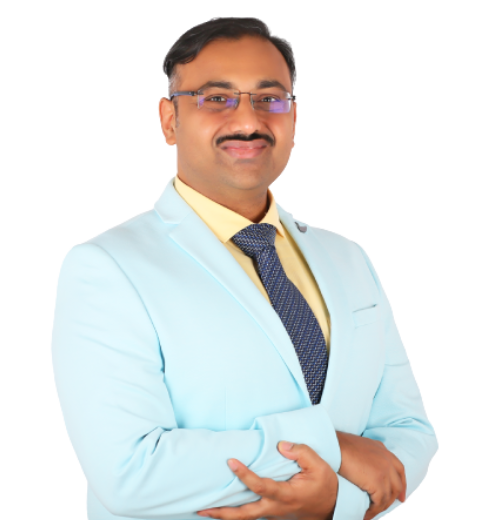 Dr. Amrut Uddhavrao Borade
Specialist Orthopedic Surgeon
---
Years of Experience :
10
Nationality :
India
Languages Known :
English, Hindi
Book Appointment
Biography
Dr Amrut Borade is an internationally fellowship-trained Specialist Orthopedic Surgeon with expertise in arthroscopy, joint replacement, shoulder and complex trauma surgery. He is board-certified and holding active orthopedic surgery licenses with Ministry of Health (MOH) Sharjah, Dubai Health Authority (DHA), Medical Council of India (MCI) as well as Educational Commission for Foreign Medical Graduates (ECFMG) certification of USA. He has 10 + years of experience in Orthopedic Surgery. He is certified in Basic Life Support (BLS), Intermediate Life Support (ILS), Advanced Cardiac Life Support (ACLS) and Advanced Trauma Life Support (ATLS).
Dr Amrut achieved state ranking of 7th to secure admission in the prestigious Seth GS medical college and KEM Hospital, one of the foremost medical colleges in India, where he underwent medial education from 2003 to 2009. He achieved excellence with first class grades throughout his medical graduation securing MBBS degree. He won Shirwalkar Prize for Clinical Medicine and Indrajit Gold Medal in Surgery State Level Quiz during his medical studies.
Dr Amrut subsequently secured his place for postgraduation in orthopedic surgery in renowned SMS Medical College, Jaipur, India, the largest trauma center in north India with 6250 + beds. He underwent comprehensive training in orthopedic trauma and elective surgery with extensive first-hand exposure to all orthopedic super-specialties. In a very high-volume center, he learned and carried out various orthopedic procedures independently with great expertise. He conducted many clinical research projects during his residency training and presented them in national and international conferences. He was first class throughout his academics from 2010 to 2013 securing Master of Surgery (Orthopedics) degree in July 2013.
After successful completion of orthopedic residency, Dr Amrut undertook Senior Residency program in Seth GS Medical College-KEM Hospital and Hinduhrudayasamrat Babasaheb Thackeray Medical College Hospital in Mumbai. As a qualified postgraduate in orthopedics, he undertook many orthopedic surgeries independently. During the year, he completed his USMLE (United States Medical Licensing Examination) to achieve ECFMG certification from USA.
Thereafter, Dr Amrut successfully secured position into the prestigious postdoctoral fellowship in the Division of Shoulder Surgery at world renowned `The Johns Hopkins University School of Medicine Hospital`, Baltimore, USA. He learned various aspects of shoulder surgery including arthroscopic surgeries and shoulder arthroplasty from renowned Professor Dr Edward McFarland. He published numerous peer-reviewed clinical research articles in reputed journals including JSES, JBJS and so on. Dr Amrut subsequently pursued the esteemed AO Trauma postdoctoral fellowship at prestigious Geisinger Medical Center, a level 1 trauma center in central Pennsylvania, where he learned comprehensive details of orthopedic trauma surgery including polytrauma, complex trauma and clinical research. He extensively contributed to clinical research and published numerous articles in renowned journals including JOT, Injury, JAAOS and so on. During his fellowships in USA, he presented papers in numerous international conferences including OTA, AAOS, ICSES.
To pursue his interest in Knee Surgery and Sports Medicine, Dr Amrut successfully joined the clinical fellowship program at the acclaimed FIFA Medical Center of Excellence, Centre Orthopedique Santy, Lyon, France with world-renowned knee surgeon Dr Bertrand Sonnery Cottet. He learned various aspects of knee surgery including numerous arthroscopic techniques, complex reconstruction techniques and rehabilitation. He published numerus peer-reviewed articles in prestigious journals including AJSM, OJSM, Arthroscopy and so on.
Dr Amrut obtained his GMC (General Medical Council) license for clinical practice in UK and successfully undertook clinical fellowships in Trauma & Orthopedics in National Health Service (NHS), UK at University Hospitals with Level-I Trauma and Elective Orthopedic Centers. He refined and upgraded his skills in joint replacement (arthroplasty) and joint reconstruction surgeries as well as learned various aspects of patient management from multidisciplinary and safety perspectives.
After acquiring extensive knowledge and skills in super-specialties of orthopedics, Dr Amrut commenced his clinical orthopedic practice in India. He undertook academic practice at Symbiosis Medical College for Women, Pune as well as Dr DY Patil Medical College, Hospital & Research Center, Pune and private practice at Deccan Multispecialty Hardikar Hospital, Pune as well as Ruby Hall Clinic Hinjawadi, Pune.
Dr Amrut Borade has comprehensive experience in Orthopedics with skills and expertise in the super-specialties of arthroscopy and joint replacement as well as complex trauma surgeries. He is well equipped with expertise to undertake Arthroscopic Knee Surgery (ACL reconstruction, meniscal repair, PCL reconstruction, multi-ligamentous reconstruction of knee), Arthroscopic Shoulder Surgery (Rotator Cuff repair, Bankart repair, subacromial decompression), Total Knee Arthroplasty, Total Hip Arthroplasty, Shoulder Arthroplasty, Hemiarthroplasty, Open/Closed Reduction Internal Fixation of fractures of extremities and deformity correction of post-traumatic Sequelae. He is competent and skilled to carry out these surgical procedures with excellent clinical outcomes and great patient satisfaction. His areas of expertise include,
Arthroscopic Knee Surgery (ACL reconstruction, meniscal repair, PCL reconstruction, multiligamentous reconstruction)
Arthroscopic Shoulder Surgery (Rotator Cuff repair, Bankart repair, subacromial decompression)
Total Knee Arthroplasty
Total Hip Arthroplasty
Shoulder Arthroplasty
Hemiarthroplasty
Open/Closed Reduction Internal Fixation of fractures of extremities (hip, femur, knee, tibia, ankle, shoulder, numerus, radius-ulna, wrist) and surgical correction of post traumatic/degenerative deformities
Awards & Achievements
Master of Surgery (Orthopedics)
ECFMG certification (USA)
Bachelor of Medicine, Bachelor of Surgery (MBBS)
Winner of Best Poster Prize for ` Virtual Fracture Clinic (VFC)' presented in Excellence in Healthcare Education 2019 at St George`s University Hospital NHS Foundation Trust, London, U.K
Winner of Winner of PT Rao Gold Medal Award at IOACON 2012-57th Annual Conference of Indian Orthopaedic Association, Chennai, India
Winner of the State Level Late Dr. Indrajit Mitra Memorial Surgery Quiz held in Nagpur, India in 2007
Research & Publications
Borade A, Sanchez-Morales D, Kempegowda H, Pesantez RF,Suk M,Horwitz DS. Minimally Invasive Plate Osteosynthesis for Periprosthetic and Interprosthetic Fractures associated with Knee Arthroplasty: Surgical Technique and Review of Current Literature. Journal of Knee Surgery 2019 May;32(5):392-402
Borade A, Maniar HH, Kempegowda H, DeGiacomo AF, Tornetta III P, Bramlett K, Marcantonio AJ, Marchand LS, Kubiak EN, Ip WH, Kellam JF, Bender JS, Meinberg EG, Kee J, Renard R, Suk M, Horwitz DS. External validation of the Clinical Indications of Computed Tomography (CT) of the Head in Patients with Low-energy Geriatric Hip Fractures. Injury, 48(7), 1594-1596
Borade A, Kempegowda H, Richard R, Graham J, Suk M, Horwitz DS. Is Early Total Care - A Safe and Cost-effective Alternative to `Staged Protocol` forthe treatment of Osteopenia High Grade Tibial Plateau Fractures;Journal of Orthopaedic Trauma, 31(12), 400-406
Borade A, Kempegowda H, Tawari A, Suk M, Horwitz DS. Improvement in Osteoporosis Detection in a Fracture Liaison Service with Integration of aGeriatric Hip Fracture Care Program. Injury. 2016 Dec;47(12):2755-2759
Borade AU, Familiari F, Choi K, Joseph J, McFarland EG, Dhillon MS. Comparison of Reverse Total Shoulder Arthroplasty versus Hemiarthroplasty for Acute Fractures of the Proximal Humerus: Systematic Review. Journal of Postgraduate Medicine Education and Research, 51(4), pp.182-187
Borade A, Kempegowda H, Fernandez M, Horwitz DS. Osteoarticular Allograft Reconstruction of Post-traumatic Defect of Distal Femur in a Pediatric Patient: A Case Report and Literature Review. Injury. 2016 Nov;47(11):2473-2478
Borade A, Hajgude G. Lateral distal tibial locking compression plate fixation through single lateral incision technique is biologically superior and mechanically equivalent alternative to medial plate fixation for lower third tibia-fibula fracture. International Journal of Research in Orthopaedics. Accepted for Nov`2021
Sanchez Morales D, Borade A, Serrano-Riera R, Maniar HH, Sanders RW, Horwitz DS. Potential Economic Benefits of Limited Clinical and Radiographic Follow-up After Plate Fixation of Midshaft Clavicle Fractures. J Am Acad Orthop Surg. 2019 Jun 1;27(11):405-409
Serrano R, Borade A, Mir H, Shah A, Watson D, Infante A, Frankle MA, Mighell MA, Sagi HC, Horwitz DS, Sanders RW. Anterior-Inferior Plating Results in Fewer Secondary Interventions Compared to Superior Plating forAcute Displaced Mid-Shaft Clavicle Fracture.Journal of Orthopaedic Trauma, 31(9), pp.468-471
McFarland EG, Borade A. Examination of the Biceps Tendon. Clin Sports Med. 2016 Jan; 35(1):29-45
Familiari F, Borade AU, Gonzalez-Zapata A, Raman T, McFarland EG. Algorithm for evaluation of the painful total shoulder arthroplasty: searchingfor sepsis. Seminars in Arthroplasty 2015 May, 25(4): 295-304
Rojas J, Familiari F, Borade AU, Joseph J, Deune EG, Ingari JV, McFarland EG. Exposure of the brachial plexus in complex revisions to reverse total shoulder arthroplasty. Int Orthop. 2019 Dec;43(12):2789-2797
Koh J, Tornetta P 3rd, Walker B, Jones C, Sharmaa T, Sems S, Ringenbach K, Boateng H, Bellevue K, Firoozabadi R, Spitler C, Saxena S, Cannada L, Borade A, Horwitz D, Buck JS, Bosse M, Westberg JR, Schmidt A, Kempton L, Newcomb E, Marcantonio A, Delarosa M, Krause P, Gudeman A, Mullis B, Alhoukail A, Leighton R, Cortez A, Morshed S, Tieszer C, Sanders D, Patel S, Mir HR. What is the Real Rate of Radial Nerve Injury After Humeral Nonunion Surgery? J Orthop Trauma. 2020 Aug;34(8):441-446
Ouanezar H, Blakeney WG, Fernandes LR, Borade A, Latrobe C, Temponi EF, Sonnery-Cottet B. Clinical Outcomes of Single Anteromedial Bundle Biologic Augmentation (SAMBBA) Technique for Anterior Cruciate Ligament Reconstruction with Consideration of Tibial Remnant SizeArthroscopy 2017 Nov 30. pii: S0749-8063(17)31180-5
Serrano R, Mir HR, Sagi HC, Horwitz DS, Borade A, Ketz JP, Kistler BJ, Quade JH, Beebe MJ, Au BK, Sanders RW, Shah AR. Modern Results of Functional Bracing of Humeral Shaft Fractures: A Multicenter Retrospective Analysis. J Orthop Trauma. 2020 Apr;34(4):206-209
Sonnery-Cottet B, Saithna A, Blakeney WG, Ouanezar H, Borade A, Daggett M, Thaunat M, Fayard JM, Delaloye JR. Anterolateral Ligament Reconstruction Protects the Repaired Medial Meniscus: A Comparative Study of 383 Anterior Cruciate Ligament Reconstructions from the SANTI Study Group with a Minimum Follow-up of 2 Years. Am J Sports Med. 2018 Jul;46(8):1819-1826
Sonnery-Cottet B, Saithna A, Quelard B, Daggett M, Borade A, Ouanezar H, Thaunat M, Blakeney WG. Arthrogenic muscle inhibition after ACL reconstruction: a scoping review of the efficacy of interventions. Br J Sports Med. 2019 Mar;53(5):289-298
McFarland EG, Rojas J, Smalley J, Borade AU, Joseph J. Complications of antibiotic cement spacers used for shoulder infections. J Shoulder Elbow Surg. 2018 Nov;27(11):1996-2005
Sodha S, Srikumaran U, Choi K, Borade AU, McFarland EG. Clinical Assessment of the Dynamic Labral Shear Test for Superior Labrum Anterior andPosterior Lesions. American Journal of Sports Medicine2017;45(4):775-781
Kempegowda HK, Richard RD, Borade A, Tawari A, Howenstein A, KubiakE, Suk M, Horwitz DS. The Role of Radiographs and Office Visits in the Follow-up of Healed Intertrochanteric Hip Fractures: An Economic Analysis; Journal of Orthopaedic Trauma. 2016; 30 (12):687-690
Kempegowda H, Richard R, Borade A, Tawari A, Jove G, Suk M,Howenstein A, Kubiak EN, Sotomayor VR, Koval K, Liporace FA, TejwaniN, Horwitz DS. Obesity is Associated with High Peri-operative Complications among Surgically Treated Intertrochanteric Fracture of the Femur. Journal of Orthopaedic Trauma, 31(7), pp.352-357
Sodha S, Joseph J, Borade A, McFarland EG. Clinical Assessment of theDynamic shear test for SLAP lesions. The Orthopaedic Journal of Sports Medicine, 2015 August; 3(7)
Garg S, Khanna V, Goyal MP, Joshi N, Borade A, Ghuse I. Comparativeprospective study between medial and lateral distal tibial locking compressionplates for distal third tibial fractures. Chinese Journal of Traumatology, 20(3), pp.151-154
Maniar HH, Kempegowda H, Tawari A, Rutter M, Borade A, Cush G,Horwitz DS. Medial Malleoli Fractures: Clinical Comparison Newly Designed Sled Device and Conventional Screws. Foot & Ankle Specialist, 10(4), pp.296-301
Familiari F, Gonzalez-Zapata A, Sodha S, Borade AU, McFarland EG. Predictive factors of total shoulder arthroplasty failure: my crystal ballSeminars in Arthroplasty 2015 May, 25(4):286-291
Meena PK, Gaba S, Bobade S, Verma R, Borade A, Sonaje J, Chouhan A. Functional Outcome of Resection versus Reconstruction in Mason II-III Radial Head Fractures; A Short-Term Prospective Study. Bulletin of Emergency and Trauma 2017 October 5(4): 266-272
Borade A, Horwitz DS. `Biomechanics of Fracture Fixation`. In: Hoppenfeld S, eds. `Hoppenfeld`s Treatment and Rehabilitation of Fractures` Elsevier Health Science (2nd edition); 2021
Sanchez D, Borade A, Horwitz DS, Management of osteoporotic extra-articular proximal tibial fractures. In: Peter V. Giannoudis PV, eds. Surgical and Medical Treatment of Osteoporosis: Principles and Practice`, CRC Press (1st Edition); 4th May 2020
McFarland EG, Borade A `Physical Examination of Shoulder`. In: Malanga GA, eds. `Musculoskeletal Physical Examination: An Evidence Based Approach`, Elsevier Health Science (2nd edition); 29th August 2016
Sanchez D, Horwitz DS, Borade A, Kempegowda H Lisfranc Fracture/Dislocation Treated with ORIF. In: Tejwani N (eds) Fractures of the Foot and Ankle: A Clinical Casebook. Springer International Publishing (1st Edition); 6th September 2017
Borade A. (November 2019). Robotics and Value Creation in Total Knee Arthroplasty. Oral Presentation at: The National Healthcare Expo, Marshall Arena, Milton Keynes, U.K.at: Marshall Arena, Milton Keynes, U.K
Kempegowda H, Richard R, Borade A, Tawari A, Jove G, Suk M, Howenstein A, Kubiak EN, Sotomayor VR, Koval K, Liporace FA, Tejwani N, Horwitz DS. (October, 2016)
Obesity is Associated with High Perioperative Complications among Surgically Treated Intertrochanteric Fracture of the Femur Oral Presentation at: 2016 International GeriatricFracture Society Annual Meeting; National Harbor, MD, USA
Borade A, Kempegowda H, Graham J, Suk M, Horwitz DS. (October, 2016). Association of position of reduction and inherent lower limb alignment with subsidence after internal fixation of tibial plateau fractures in elderly patients Oral Presentation at: 2016 International Geriatric Fracture SocietyAnnual Meeting; National Harbor, MD, USA
Kempegowda H, Alejandro S, Borade A, Wagner B, Graham J, Cush G, Gotoff J, Daniel Horwitz DS. (October, 2016). Treatment of Primary Ligamentous Lisfranc Injuries: Comparison between Screw Fixation and Tightrope Fixation Oral Presentation at: 2016 Orthopaedic TraumaAssociation Annual Meeting; National Harbor, MD, USA
Familiari F, Borade A, Zapata A, McFarland EG. (May, 2016). Does brachial plexus exploration facilitate revision surgery for reverse total shoulder arthroplasty? - A case series. Oral Presentation at: The 13thInternational Congress of Shoulder and Elbow Surgeons 2016; Jeju, KOR
Borade A, McPhillips K, Tawari A, Kempegowda H, Graham J, Suk M, Horwitz DS. (October, 2015). Reversal of Anticoagulation prior to Hemiarthroplasty for Femoral Neck fractures Oral Presentation at: 2015 International Geriatric Fracture Society Annual Meeting; San Diego, CA, USA
McFarland EG, Borade A. (April, 2015). Do it open: Why I prefer the subpectoral tenodesis approach? Oral Presentation at: 34th AnnualCherry Blossom Seminar; Washington, DC, USA
McFarland EG, Borade A. (April, 2015). Arthroscopic rotator cuff repair 301: When your best isn`t good enough: other (non-arthroplasty) options worth considering when dealing with an irreparable cuff tear Oral Presentationat: 34th Annual Cherry Blossom Seminar; Washington, DC, USA
McFarland EG, Borade A. (March, 2015). Management of Bone Loss in Glenohumeral Instability Oral Presentation at: 74th Annual Meetingof Maryland Orthopaedic Association; Baltimore, MD, USA
Gonzalez-Zapata A, Familiari F, Borade A, McFarland EG. (October, 2014). Subscapularis: Its role on shoulder stability after Reverse Total Shoulder Arthroplasty. Oral Presentation at: Korean Traveling Shoulder and Elbow Fellow Symposium at: The Johns Hopkins University, Baltimore, Maryland
Borade A, Chaudhary C, Verma RK. (October, 2013). Evaluation of outcome open reduction internal fixation of acetabular fractures: A prospective clinicalstudy. Oral Presentation at: 34th SICOT Orthopaedic WorldConference 2013; Hyderabad, IND
Borade A, Gupta R. (October, 2013). Combined anterior cruciate ligament, posterior cruciate ligament, and posterolateral corner/ medial collateral ligament reconstruction with autogenous hamstrings grafts in chronic multiligamentous injured knee Oral Presentation at: 34th SICOT Orthopaedic World Conference 2013; Hyderabad, IND
Borade A, Goyal MP, Gupta SP. (January, 2013). Evaluation of outcome of ORIF with lateral distal tibial LCP by single incision lateral approach technique for treatment of distal third tibia fractures. Oral Presentation at: Rajasthan Orthopaedic Surgeon's Association Conference 2013; Ajmer, IND
Borade A, Goyal MP, Gupta SP. (December, 2012). Comparative Prospective study between medial & lateral distal tibial locking compression plate for treatment of distal third tibia fractures. Oral Presentation at: IOACON 2012-57th Annual Conference of Indian Orthopaedic Association-Winner of PT Rao Gold Medal Competition; Chennai, IND
Borade A, Gupta R. (October, 2012). Evaluation of outcome of arthroscopic anterior tibial spine fracture fixation. Oral Presentation at: APOA- 2012 - Golden jubilee congress of the Asia Pacific Orthopaedic Association;New Delhi, IND
Borade A, Goyal MP, Gupta SP. (August, 2012). Comparative Prospective study between medial & lateral distal tibial
locking compression plate for treatment of distal third tibia fractures- A study of 36 patients. OralPresentation at: Traumacon-2012; Mumbai, IND Poster Presentations
Borade A, Smith T, Hing C. (June 2019) Does Total Knee Arthroplasty Fails to Improve Pain Catastrophizing and Anxiety Depression Scores?: A Systematic Review. Poster presented at: 20th EFFORT Annual Congress 2019; Lisbon, Portugal
Borade A, Smith T, Hing C. (March 2019) Total Knee Arthroplasty Fails to Improve Pain Catastrophizing and Anxiety Depression Scores: A Systematic Review. Poster presented at: BASK 2019 Annual Meeting; Brighton, U.K
Borade A, Kempegowda H, Graham J, Suk M, Horwitz DS. (October, 2016). Association of Knee Alignment and Quality of Reduction with Subsidence after Internal Fixation of Tibial Plateau Fractures in Elderly Patients Poster presented at: 2016 Orthopedic Trauma Association Annual Meeting; National Harbor, MD, USA
Borade A, Joseph J, Choi K, McFarland EG. (May, 2016). Complications of antibiotic loaded cement spacer used in the treatment of chronic shoulder infections. Poster presented at: The 13th International Congress of Shoulderand Elbow Surgeons 2016; Jeju, KOR
Borade A, Gupta R. (November, 2012). Follow up of the cases of anterior cruciate ligament & posterolateral complex injury with common peroneal nerve palsy Poster presented at: Congress of Arthroscopy & Sports Medicine 2012; Jaipur, IND
Borade A, Gupta R. (November, 2012). Evaluation of the outcome of arthroscopic adhesiolysis of post-traumatic arthrofibrotic knee Posterpresented at: Congress of Arthroscopy & Sports Medicine 2012; Jaipur, IND
Tawari A, Kempegowda H, Borade A, Suk M, Horwitz DS. (March 2017) High Early Complication Rates of Open Femur and Tibia- Fibula Fractures in the Geriatric Population. Poster presented at: AAOS 2017 Annual Meeting;San Diego, California, USA
Govindasamy R, Borade A, Banshiwal R. (October, 2013). Comparative study of parallel plating with perpendicular plating in the management of distal humeral fractures: A prospective randomized trial Poster presented at:34th SICOT Orthopaedic World Conference 2013; Hyderabad, IND
Membership
IOA (Indian Orthopedic Association)
ISAKOS (International Society of Arthroscopy, Knee Surgery & Orthopedic Sports Medicine)
---
---
---
---
Other Orthopedics, Sports Medicine and Joints Replacement Experts