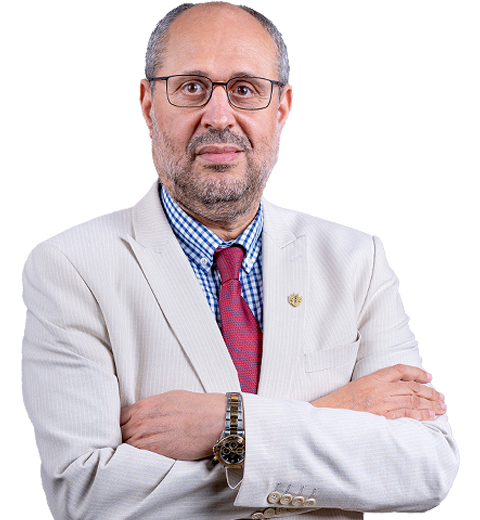 Dr. Al El Houni
Consultant Endocrinologist
---
Years of Experience :
25
Nationality :
United Kingdom
Languages Known :
English, Arabic
Book Appointment
Biography
Dr. Ali El Houni graduated from the University of Liverpool School of Medicine, Liverpool, the Royal College of Physicians of Ireland, and many more. His areas of expertise are diabetes, hyperthyroidism and hypothyroidism, prolactinoma, osteoporosis, and gestational diabetes. Dr. Ali previously worked as a Consultant Endocrinologist at Tawam Medical Campus/Johns Hopkins Medicine and as an Associate Clinical Professor at the University of Al Ain Abu Dhabi Faculty of Medicine. He is a former Associate Director of the Internal Medicine Residency Program Clinical Lead on the Thyroid Cancer MDT Meeting in Tawam/Thyroid Oncology Service and a Site Director for the Endocrinology Fellowship (DOH/Imperial College London, UK) Program Clinical Associate Professor, College of Medicine and Health Sciences, United Arab Emirates University. He is a task force member that wrote the first diabetes guidelines for the UAE through the Ministry of Health. He was Taiwan's former Co-Director of the Internal Medicine (GIM) residency program. He held Locum Consultant Physician positions and substantive Staff Physician positions in NHS Hospitals in the North West of England.
Research & Publications
MSc thesis at the University of Liverpool titled "Retrospective analysis of the effect of structured coronary risk reduction in type 2 diabetes".
El-Houni A, Robinson A, Lorains J & Gill G. Reducing coronary risk in type 2 diabetes-an integrated risk-focused approach. Diabetic Medicine, 2002; 19(Suppl. 2): 28-115.
El-Houni A, Younis N, Soran H & Bowen-Jones D. Diarrhoea soon after levothyroxine replacement therapy. Q J Med, 2002; 95: 125-126
Younis N, El-Houni A, Soran H & Jones I. Management of amiodarone-induced thyrotoxicosis. Hospital Medicine, 2002; 63(9): 546-48.
Vallie Y, Afandi B & El-Houni. Retrospective review of glycaemic, lipid and blood pressure control in patients with type 2 diabetes in a major UAE hospital.
Emirates Medical Journal, 2007; 25 (1): 49-52. El-Houni A & Afandi B. Hyperthyroidism following primary hypothyroidism in a middle-aged man. Emirates Medical Journal, 2007; 25 (2): 231-232.
Khouri A, El-Houni A & Afandi B. Complicated case of prolactinoma. Emirates Medical Journal, 2007; 25 (2): 241-243.
Abu Zidan FM, El-Houni A, Al-Ayyan M, Faour I, Neidl van Gorkom K & El-Taji H. Adrenal Insufficiency following Blunt Abdominal Trauma: Report of two Cases and Review of the Literature. ANZJ Surg, 2008; 78 (Suppl 1): A145.
Sajwani S, El-Houni A & Gariballa S. Not just a case of thyrotoxicosis. Emirate Medical Journal, 2008; 26(2); 129-130.
Abu Zidan FM, El-Houni A, Al-Ayyan M, Faour I, van Gorkom K.N & El-Taji H. Adrenal insufficiency following blunt abdominal trauma: report of two cases and review of the literature. Proceedings: International Conference –Trauma
Management, Critical Care, and Prevention. Al Ain, UAE (2009). Malik A, El-Houni A, Gulshad H, Elsiah S & Al-Salam S. An interesting case of paraganglioma. BMJ Case Reports, 2009; doi:10.1136.
Membership
Membership in Various International Associations ATA thyroid, ADA - Diabetes- AACE Gulf
Chapter- Endocrinology- BES UK Endocrine Society and Manchester Medical Society.
Active Membership Subscription in the GMC - General Medical Council UK and Previous BMA Membership.
---
---
---