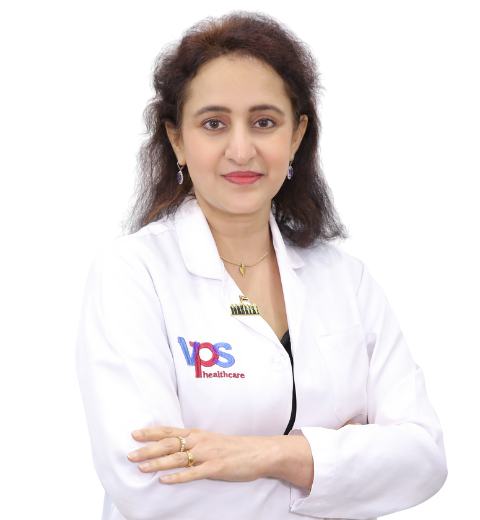 Dr Lakshmi Chembolli
Specialist Dermatology
---
Years of Experience :
22English | French | Arabic |Hindi |Tamil | Malayalam | Arabic
Nationality :
India
Languages Known :
English, French, Arabic, Hindi, Tamil, Malayalam
Book Appointment
Biography
Dr. Lakshmi Chembolli, MD, DNB (Diploma of National Board), SC-Derm (RCP), is a Specialist Dermatology at Burjeel Medical Centre, Al Zeina. She completed her undergraduate studies at Government Medical College, Trivandrum, in 1993 and postgraduate studies at Government Medical College, Calicut, in 1999. Additionally, she earned her DNB (D&V) in 1999 from the Diplomate of the National Board, New Delhi. She spent 12 years as a Consultant Dermatologist at the PSG Institute of Medical Sciences and Research in Coimbatore, India, beginning in 2003, and was promoted to Professor of Dermatology in 2012. She has over 20 years of experience in Dermatology, has supervised postgraduate theses, and has published 39 articles in international and Indian journals. She has been practicing and performing procedures related to both General Dermatology and Cosmetology in the UAE since 2015. In 2016, she passed the Royal College of Physicians' Specialty Certificate Examination (SCE) in Dermatology. Her areas of interest include contact dermatitis, patch testing, photo dermatology, collagen vascular disease, lasers in dermatology, and cosmetic dermatology.
Awards & Achievements
Dr. LN Sinha Lifetime Achievement Award in 2012 Conferred at Dermacon Jaipur for Overall Scientific and Academic Achievement of a Dermatologist under 45 years
Specialty Certificate Examination (SCE) in Dermatology from the Royal College of Physicians, UK
AAAM-Masters Botox/Filler and Medical Rhinoplasty Course Certification