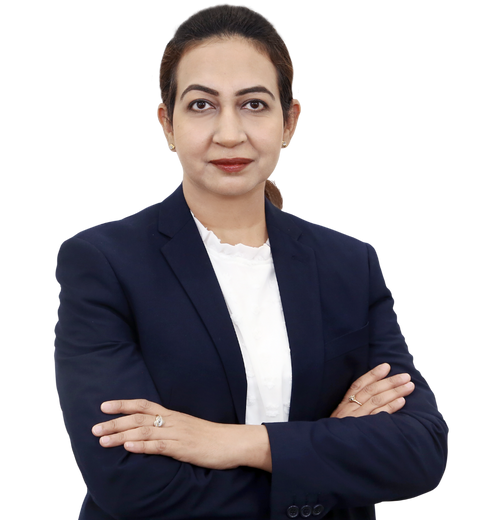 Dr. Iram Mobusher
Specialist Obstetrics & Gynecology
---
Years of Experience :
14
Nationality :
Pakistan
Languages Known :
Arabic, English, Hindi
Book Appointment
Biography
Dr. Iram Mobusher is an Obstetrics and Gynecology Specialist with over 13 years of experience at Burjeel Medical Centre, Al Zeina. She received her medical degree from King Edwards Medical University in Pakistan and a Fellowship in Obstetrics and Gynecology from the Pakistan College of Physicians and Surgeons. She holds an advanced diploma in assisted reproductive technology and reproductive endocrinology from Schleswig Holstein University in Keil, Germany. She has extensive experience working in Pakistan's tertiary care teaching hospitals. Her specialties include antenatal care for routine and high-risk pregnancies, prenatal counseling, PCOS, menstrual issues, premenstrual syndrome, recurrent miscarriages, contraception, infertility, menopause, cervical and breast cancer screening, fibroid management, and ovarian cancer cyst, endometriosis, adenomyosis, and fibroid. She has represented the United States at numerous international conferences, workshops, and seminars. She has authored over a dozen publications. She presented a scientific paper at the SOGP's 15th Biennial International Conference.
Research & Publications
Mohamed Fahmy Doheim, and Mohamed Mostafa. Carotid‐Cavernous Fistula: Does Transcranial Duplex Worth Revisiting? Stroke: Vascular and Interventional Neurology. 2021;1:e12080.
Aziz W, Hady MA, Shihan HA. (2020, Jun). Parietooccipital arteriovenous malformation mimicking carotid-cavernous fistula in context of a possible sinus thrombosis: bidirectional or unidirectional relationship? Asian Journal of Neurosurgery, 15(2), 458–461.
Mohamed A, Ahmed S, Tamer H, Tamer I, Amr ElS, et al. (2016, Jan). Cranial Arteriovenous Malformations During Pregnancy: A Multidisciplinary Algorithm for Safe Management. Journal of Neurology & Stroke, 4(2), 2373-6410.
Mostafa, M.A., Elfatatry, A.M. and Deif A. (2013, May). Prevalence and impact of cognitive impairment in school-age children with idiopathic generalized epilepsy.
Bibliotheca Alexandrina, Alexandria, Egypt. Nawar A., Mostafa, M.M. (2016, January 01). Insulinoma case report [Poster presented]. Annual Neurology Conference/Alexandria, EGY.
---
---
---
---
Other Obstetrics and Gynecology Experts