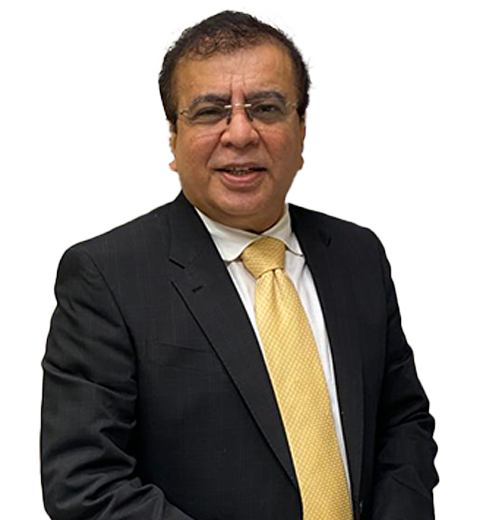 Dr. Mohammad Ashfaq Konchwalla
Consultant Orthopaedic and Sports Surgeon
---
Years of Experience :
25
Nationality :
United Kingdom and Pakistan
Languages Known :
English, Hindi, Urdu, Gujarati, Punjabi
Book Appointment
Biography
Dr. Konchwalla brings to the UAE a wealth of knowledge and experience in the field of Orthopaedics sports and trauma surgery gained from over 20 year's experience in a number of UK hospitals. Dr. Mohammad Ashfaq Konchwalla has impressive credentials, right from MBBS & FRCS from The Royal College of Surgeons in England, then FRCS from The Royal College of Physicians & Surgeons, Glasgow & another FRCS in Trauma & Orthopaedics from The Royal College of Surgeons of Edinburgh, England, Glasgow & Ireland. He also completed his diploma in Sports Medicine from The Royal College of Surgeons of Sports and Exercise Medicine, Edinburgh & a Certificate of Completion of Specialist Training from the UK. Dr. Konchwalla is reputed for his arthroscopic procedures involving the knees for chondrocyte transplantation, growing chondrocyte via stem cell & doing implantation, ACL/PCL ligament reconstruction & meniscal repair and meniscal transplant & complex revision ligament surgery, involving the shoulders for subacromial decompression, arthroscopic bankart repair & rotator cuff repair, & involving the elbow & wrist for tennis elbow release, TFCC repair & ligament stabilization. His expertise extends to arthroscopic ankle surgery for osteochondral lesion, complex ligament reconstruction, arthroscopic hip surgery for labrum repair, cam impingement, stem cell therapy & arthroscopically assisted intraarticular fracture fixation of joints. He is proficient too at joint replacements of the hip, knee, and shoulder biologic innovated approach PRP & stem cell application (hip, knee, ankle, shoulder), foot deformity & hallux valgus & trauma management.
Expertise
Knee ACL/PCL ligament reconstruction & meniscal repair and meniscal transplant
Hip arthroscopic AVN labrum repair and cum impingement
Shoulder arthroscopic rotated cuff and labrum reconstruction
Ankle Arthroscopy ligament reconstruction and osteochondral transplantation
Wrist TFCC repair & ligament stabilization
Elbow arthroscopic tennis elbow release and ligament reconstruction
Joint Replacement (hip, knee and shoulder)
Biologic Innovative approach PRP stem cells and growth factor
Membership
General Medical Council, UK
British Orthopaedic Association
Fellow of the Royal College of Surgeons of England, Edinburgh and Glasgow
Founder Member of the Faculty of Sports and Exercise Medicine (UK)
AO Alumni, Switzerland
CCST (UK), Certificate of Completion of Specialist Training (UK)
---
---
---
---
Other Sports Orthopedics Experts