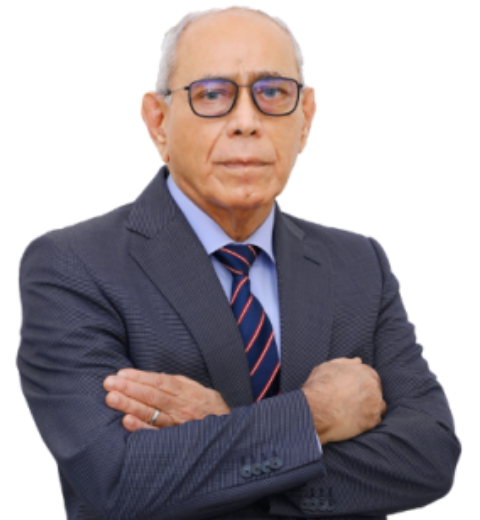 Dr. Sarmad Al Fahad
Consultant Neurologist
---
Years of Experience :
40
Nationality :
Iraq
Languages Known :
Arabic, English
Book Appointment
Biography
Dr. Sarmad is a Neurology and Neuroscience Specialist and highly regarded Consultant. He is one of the region's leading Neurologists, with over 40 years of experience in the field. His clinical and teaching experience was gained in the United Kingdom at some of the world's most prestigious hospitals and clinics. His comprehensive approach to patient care ensures that they receive the best diagnosis and treatment options for their pathology, enabling them to live better lives despite their challenging conditions. He assists thousands of patients suffering from neurological disorders and strokes each year. His clinical expertise includes the following:
Neurophysiology – EMG (NCS), SSEP, EEG, and long-term video EEG monitoring
Epilepsy
Multiple sclerosis
Acute and non-acute strokes
Headaches and migraines
Parkinson's disease and tremors
Movement disorders
Peripheral nerve involvement
Neuropathic pain
Memory Loss
Sleep disorders
A wide range of acute and chronic neurological conditions
Guillain Barre Syndrome
Awards & Achievements
Awarded by the Minister of Health for Being the First Among 250 Students to be graduated by the Minister of High Education for Publications
Awarded by the Congress of the World Federation of Neurology in Dubai for the Services in Neurology
Research & Publications
Neuro-Behcet's S Disease in Iraq: A Study of 40 Patients. Journal of the Neurological Sciences 170 (1999)105-111.
Guillain Barre Syndrome, Clinical Feature, Course, and Prognosis in Iraq. Iraqi Medical Journal 1993; Vol 40-42: Page 11.
Pattern Shift Visual Evoked Potential in Normal Group and Definite Multiple Sclerosis.
Iraqi Medical Journal1996; Vol 43-45: P98.
The Antiphospholipid Syndrome. J.Fac.Med. Baghdad 1997; Vol39:No.2,204.
Neurological Manifestation of Churg Strauss Syndrome in 6 Iraqi Patients. J. Fac. Med.Baghdad:1999; Vol 41:1,138.
Chronic Inflammatory Demyelinating Neuropathy CIDP in 12 Iraqi Patients. J.Fac.Med. Baghdad1999; Vol 41, No.2,306.
Mitral Valve Prolapse and Stroke: A Prospective Study of 30 Patients. Journal of the faculty of Medicine 1999; Vol 41:3-4,441.
Psychopathology in People with Epilepsy a Clinical Study. J.Fac.Med.Baghdad 2001; vol 43,3,399.
Headache Free Pseudotumor Cerebri. J.Fac.Med.Baghdad 2001; Vol 43,4,621.
Stroke in 50 Young Adult Iraqi Patients. J.Fac.Med. Baghdad 2002, Vol 44, No.1,138.
Endovascular Treatment of Transverse Sinus Aneurysm Presenting with Occipital Headache. Journal of Neuroradiology. Journal De Neuroradiologie 2010. 38. 10.1016.
Diffusion Tensor Imaging as a Solution to Problematic Brain White Matter Patches.
Multiple Sclerosis and Related Disorders, 2018, Volume 26, 248.
Deep Gluteal Syndrome: Diagnostic Assessment and Surgical Treatment of Nondiscogenic Sciatica in Our Experience.
Journal of Peripheral Nerve Surgery (Volume 2, no. 1, July 2018).
High-efficacy Therapies for Relapsing-remitting Multiple Sclerosis: Implications for adherence. An Expert Opinion from the United Arab Emirates.
Neurodegenerative Disease Management 2020.
---
---
---
---