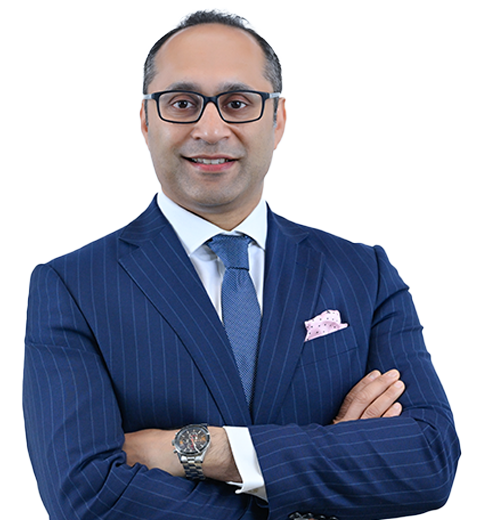 Dr. Rajive Paul Joy Chiriyankandath
Consultant Obstetrics & Gynaecology
---
Years of Experience :
15
Nationality :
United Kingdom
Languages Known :
English
Book Appointment
Biography
Dr Rajive Paul Joy Chiriyankandath is an experienced Consultant Obstetrician and Gynaecologist with a special interest in Minimally Invasive Surgery. His areas of clinical interest encompass Benign and complex Gynaecology disorders including endometriosis, Gynae-oncology, female genital tract pre-cancer screening and treatment of early-stage cancers. He is passionate about Minimal access surgery, Robotic assisted surgery and Colposcopy. His allied interests include leadership & service development, risk management, human factors in complex networks and medical workforce empowerment. He believes in evidence based care. He supports patient centered choice and realistic medicine. He constantly updates his knowledge and skills as a doctor, surgeon, trainer, manager and scholar. He firmly believes the patient being at the core of his practice and work. His goal is to deliver not only an effective cutting edge highest quality care but also a sensitive, safe and supportive level of care that our patients deserve. He has undertaken a comprehensive Royal College of Obstetricians & Gynaecologists (RCOG UK) training programme in Edinburgh, UK. In addition, he has completed formal training recognized by the RCOG UK in Gynae-oncology, Colposcopy and minimal invasive surgical techniques. On completion of national training, he was awarded CCT UK and BSCCP UK Colposcopy accreditation. He has also undertaken a basic surgical training programme from the UK. He is a GMC and RCOG recognized supervisor for specialty post graduate O&G trainees in UK training programmes and a University medical student tutor. He is an examiner for the GMC. His areas of expertise include,
Menstrual Disorders
Post menopausal bleeding
Pelvic pain
Endometriosis
Management of Ovarian masses, Fibroids
Post-Partum Perineal Trauma
Vulva, vaginal disorders, abnormal lesions(including cysts, lichen sclerosis, planus)
Screening for gynaecological cancers, cervical screening (PAP smear) and colposcopy
Diagnostic and operative hysteroscopy
Minimally Invasive Surgery/ Laparoscopy – Diagnostic and operative surgery including management of ectopic pregnancy, adhesions, ovarian cysts, hysterectomy and endometriosis.
Research & Publications
R. Chiriyankandath, C Lim, T Mahmood. Handbook of contraception and Sexual reproductive health , Chapter – Male sterilisation Cambridge University Press 2022 ISBN 9781108958639
S. Mackeith, R Joy, P. Robinson, D. Hajioff. Pre-operative imaging for cochlear implantation – MRI, CT or both ? Cochlear implants international 2012 Aug;13(3):133-6. doi: 10.1179/1754762811Y.0000000002
R. Joy, C. Love, A. Dick. Retrospective analysis of management of pregnancies in women with epilepsy from 2002-2010 at RIE Arch Dis Child Fetal Neonatal Ed 2010;95:Fa103-Fa104 doi:10.1136/adc.2010.189761.49
U. Kini, S. Shetty, R Joy . Isolated mucormycosis of the tongue – ENT Journal 2008 Jan
S. Gosh, R. Joy, S. Ghosh, S. Hickey. A rare presentation of laryngeal neuroma in a patient with MEN(2B) – J Laryngol Otol. 2007 Aug 1;:1-3 PMID: 17666129
R Joy, J Issacs, RJ McCarthy. Digital artery occlusion secondary to entrapment – Ann R Coll Surg Engl. 2007 Sep;89(6):11-3. PMID: 18201465
R Joy, MA Chadwick, JD Arthur, R McCarthy,IC Currie. SQUASH(Simple Qualitative User friendly Amplitude Sensor of Hand strength) –A non-invasive monitor during carotid endarterectomy under local anaesthetic-– Ann R Coll Surg Engl. 2007 2007 Mar; 89 (8): 173-180. DOI: 10.1308/003588407X168299
R Joy, S. Shetty – Tracheostomy care Manual, St Johns National Academy of Health Sciences – 2003
Education & Training
MBBS
MRCS
MRCOG
ATSM ( Gynaecology)
BSCCPUK Accreditation
CCT, UK
Membership
MRCOG(Royal College of Obstetricians and Gynaecologists)
MRCS(Royal College of Surgeons of England)
BSGE(British Society for Gynaecological Endoscopy)
BGCS(British Gynaecological Cancer Society)
BSCCP(British Society for Colposcopy and Cervical Pathology)
BMA(British Medical Association)
---
---
---
---
Other Gynecology & Obstetrics Experts