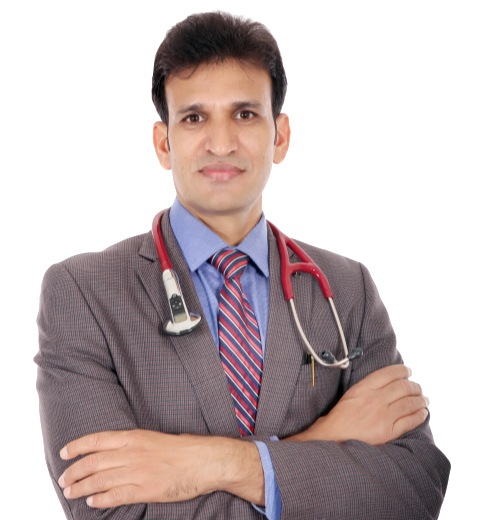 Dr. Trilok Chand
Consultant & HOD Respiratory Medicine
---
Years of Experience :
11
Nationality :
India
Languages Known :
English, Hindi and Urdu
Book Appointment
Biography
Dr. Trilok Chand earned his MBBS degree in 2004 from SMS (Sawai Man Singh) Medical College in Jaipur, Rajasthan, India. In 2008, he made his Diploma in Tuberculosis and Respiratory Medicine. He earned his DNB (Diploma of National Board) in 2011 from Apollo Hospitals in New Delhi. Dr. Trilok also holds a European Diploma in Adult Respiratory Medicine (EDARM), which he obtained in 2013. He has been awarded the Fellowship of the American College of Chest Physicians (FCCP) and the Fellowship of the Asia Pacific Society of Respirology (FPSR). Dr. Trilok completed his one-year Fellowship in Sleep Medicine (FSM-ISDA) in 2014 and a Fellowship in Interventional Bronchoscopy and Medical Thoracoscopy in Bangkok, Thailand, in 2015. Dr. Trilok has vast experience practicing medicine in India. He began his career as a Senior Resident at the PGMIS Hospital in Rohtak in 2008. He subsequently moved to Apollo Hospitals in New Delhi. He started as a Senior Resident in the Department of Internal Medicine in 2009 and became an attending Consultant in Respiratory, Critical Care, and Sleep Medicine. Dr. Trilok is a seasoned professional in his industry. He has published numerous articles in reputable journals. He is a member of several professional associations, including the National College of Chest Physicians, the American College of Chest Physicians, and the European Respiratory Society. He has also taken part in several CMEs in India and Europe. Dr. Trilok also holds the position of Vice-President of the Interventional Pulmonology group under the Emirates Thoracic Society (ETS). Interstitial lung disease, sarcoidosis, lung cancer, sleep medicine, and interventional pulmonology, including endobronchial ultrasound (EBUS) bronchoscopy, Cryo lymph node biopsy, rigid bronchoscopy, foreign body removal, and thoracoscopy, are his areas of interest.
Awards & Achievements
Third Prize in Chest Radiology Quiz at NAPCON-2007, Chandigarh, India
Fellowship of American College of Chest Physician (FCCP), USA
Fellowship of Asia Pacific Society of Respirology (FAPSR), Japan
Fellowship in Sleep Medicine (FSM-ISDA), India
Research & Publications
Recurrent pneumothorax developing during chemotherapy in a patient with miliary tuberculosis. Gupta PP, Mehta D, Agarwal D, Trilok Chand. Ann Thorac Med 2007; 2:173-5.
Thesis for the postgraduate program (unpublished): Study of sleep pattern in stable heart failure patients –2011.
Endobronchial Anaplastic large cell Lymphoma Masquerading as endobronchial aspergilloma. A. Bansal, A. Ganjoo, V. Malhotra, T. Chand. American Journal of Respiratory and Critical Care Medicine 2011;183: A3832.
A prospective study of TBNA of 63 patients from a tertiary care hospital in India. A Bansal, Trilok Chand, Priyadarshi J. Kumar, et al. Conference paper P240. ERS-2011, Amsterdam.
Tension Gastrothorax Complicating Third Trimester of Pregnancy. Sharma R, Rosha D, Dash SK, Chand T. Suspicion is the Key. J Clin Imaging Sci 2012; 2:49.
Bilateral chylothorax in a patient with chronic central vein thrombosis and chronic thromboembolic pulmonary hypertension (CTEPH).
Avdhesh Bansal, Trilok Chand, Kapil Sharma. European Respiratory Journal 2014;44: P594
Metastatic Breast Carcinoma Masquerading as Non-Resolving Pneumonia." Deepak Rosha, Trilok Chand, Parminder B. Singh. Journal of Evolution of Medical and Dental Sciences 2014;3(33):8924-8.
Sudden onset of loculated hemothorax: An uncommon complication of anticoagulant therapy in stroke. Rao TC, Teotia A, Mansuriya J, et al. Int J Sci Stud 5 2014;2(9):103-5.
Atypical hemolytic uremic syndrome in a young patient with atypical skin manifestations. Rao TC, Kamal R, Yadav RK, et al. Int J Sci Stud 2014;2(8):201-3.
Congenital Proximal Tracheoesophageal Fistula Clinically Masquerading as Persistent Bronchial Asthma. Trilok Chand, Deepak Rosha, K.K. Pandey, et al.: Sch J Med Case Rep 2014;2(11):755-8.
Human Immunodeficiency Virus Associated Pulmonary Arterial Hypertension: An uncommon etiology of Pulmonary Hypertension. Trilok Chand, Deepak Rosha, Rakesh Kumar, et al. Sch J Med Case Rep 2015;3(2):151-4. Mucinous cystadenocarcinoma of lung presented with recurrent pneumothorax. Chand T, Rosha D, Agarwal K, et al. Lung India 2016;33:101-3.
Pseudomonas species as an uncommon culprit in transbronchial needle aspiration of a mediastinal lymph node. Bansal A, Chand T, Kumar R. J Assoc Chest Physicians 2016;4:91-3.
Review of publications on Bronchoscopy and Interventional Pulmonology. Trilok Chand, Jamsak Tscheikuna: APSR respiratory updates. Volume 8, issue 1. January 2016.
A case of auto pneumonectomy without any symptoms. Chand T, Bansal A, Shankar V. Int J Acad Med 2016;2:115-8.
Hydatid lung disease presented with multiple pulmonary nodules. Trilok C, Avdhesh B, Aanchal T. CHRISMED J Health Res 2016;3:137-40.
Pulmonary strongyloidiasis and hyper infection in a renal transplant patient. Chand T, Bansal A, Jasuja S, et al. Lung India 2016;33:692-4.
Endotracheobronchial lymphoma: Two unusual case reports and review of the article. Chand T, Bansal A, Dua H, et al. Lung India 2016;33:653-6.
A case of left lung hypoplasia with infrequent associations with congenital absence of left pulmonary artery and right‑sided aortic arch. Chand T, Bansal A, Mansuriya J.J Assoc Chest Physicians 2017;5:35-8.
Sigh Syndrome: An Emerging Issue in the Healthy Population Amid the COVID-19 Pandemic. Trilok Chand, MU Khan. E.C. Pulmonology and Respiratory Medicine 2020;9(11): 43-5. 22.
Extensively Drug-Resistant Tuberculosis and Tetralogy of Fallot: Two Demons Together. Deepak Rosha & Trilok Chand. Saudi J Med 2020;5(11):328-31.
A case of Pantoea pneumonia in an immunocompetent host: A post-lobectomy case of the typical carcinoid tumor. Trilok Chand, Sundar Elayaperumal: International Journal of Scientific Research 2021;10(1):5-6. DOI :10.36106/ijsr.
Endobronchial Tuberculosis: Diagnostic and Therapeutic Challenges for Interventional Pulmonologist. Trilok Chand & Jamsak Tscheikuna (2021). Saudi J Med, 6(7):206-21. 25.
A Case of Pulmonary Tuberculosis Mimicking as Diffuse Alveolar Hemorrhage: Trilok Chand, Georgie Thomas, M. U. Khan: NEMJ 2021, 2(2): 165 – 168.
JET LAG SYNDROME: CURRENT INSIGHT AND REVIEW OF THE SCIENTIFIC LITERATURE. Trilok Chand, Rakesh Kr Gupta, Maya Banshidhar, Mohit Gupta, Abduljaleel Md Toubah: GJRA VOLUME - 11, ISSUE - 07, JULY - 2022 • PRINT ISSN No. 2277 - 8160 • DOI: 10.36106/gjra.
Detection of SARS-CoV-2 in a transudative pleural fluid by Real-Time Reverse Transcriptase-Polymerase Chain Reaction Assay: A Case Report. Chand T. (2022). British Journal of Multidisciplinary and Advanced Studies: Health and Medical Sciences 3 (2),67-71.
A RARE ASSOCIATION OF SWYER-JAMES-MACLEOD SYNDROME WITH COPD AND BRONCHIECTASIS: A CASE REPORT. Trilok Chand, Vijai Chandran: BJMHS. Jan 2023 (5).
---
---
---
Other Pulmonology & Respiratory Medicine Experts