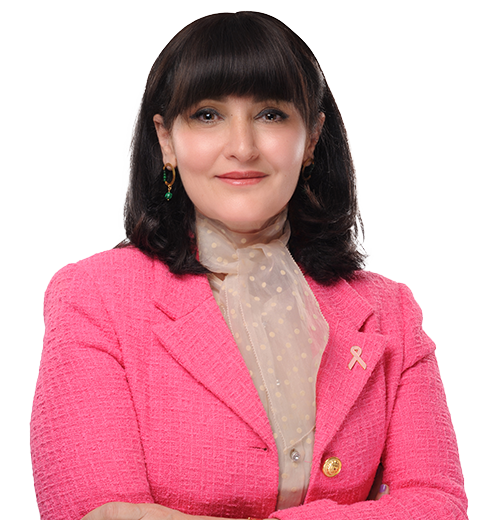 Dr. Frea Ramzi Perdawood
Consultant Oncoplastic & Reconstructive Breast Surgeon
---
Years of Experience :
27
Nationality :
Iraq & Denmark
Languages Known :
Arabic, Danish, English, Norwegian, Swedish
Book Appointment
Biography
Dr. Frea Perdawood is a double board-certified Oncoplastic and Reconstructive Breast Surgeon. She performs all aspects of breast cancer, cosmetic, and implant-based reconstruction surgery. Dr. Frea has more than 27 years of experience as a physician. She completed her academic degree (MD) in Denmark and then obtained the Danish Board in General and Breast Surgery in Copenhagen, Denmark. She obtained the certificate of completion of specialty in breast oncoplastic and reconstructive surgery training from the Danish Breast Surgical Association (DBKS). She later obtained the European Board of Breast Surgery/UEMS, the European Union of Medical Specialists, Bruxelles, Belgium. As a part of her training program, she went for an oncoplastic breast fellowship at the Plastic and Breast Surgical Department, Odense University Hospital (OUH), a tertiary high specialized department, and the Plastic and Breast Surgical Clinic, Rigshospitalet (The Royal Danish Hospital), Copenhagen, Denmark, the largest and highest technical center in Denmark and one of the most highly specialized hospitals in Europe. Since 2014, Dr. Frea has been appointed as a senior consultant Oncoplastic and Reconstructive Breast Surgeon and has performed more than 3,000 breast and axillary operations, including oncoplastic and reconstructive breast surgery, at the Plastic and Reconstructive Breast Surgical Clinic, Zealand University Hospital, one of Denmark's and Scandinavians largest breast cancer center with highly specialized treatment modalities for all type of breast cancer and breast disease with a huge volume of operative procedures. She attended various technical training programs in breast cosmetic and oncoplastic, breast reconstruction surgery, and correction of post lumpectomy defects at Clínica Universidad de Navarra (CUN) in Spain, an academic medical center in association with ESSO, the European Society of Surgical Oncology. Her areas of expertise include,
Breast Screening and Assessment, Breast Health Counseling.
Scarless Breast Surgery (Tumorectomy of All Sizes).
Therapeutic and Cosmetic Breast Reduction, Breast Uplift.
Simple Mastectomy, Skin, and Nipple-sparing Mastectomy.
Reconstruction With Implant and Expander.
Sentinel Lymph Node Biopsy With Dual Localization. Axillary Nodal Clearance.
Breast Conservation Surgery With Oncoplastic Techniques, Lateral Mastopexy, V Mastopexy, Round Block, Benelli Mastopexy, Inverted T, and Lollipop Mastopexy).
Microdochectomy, Milk Duct Excision, Nipple Reconstruction.
Drainage of Breast Abscess, Hematoma, and Seroma.
Surgery for a Male Breast Lump, Gynecomastia.
Fat Grafting and Nano Fat Grafting.
Awards & Achievements
Consultant Oncoplastic Breast Surgeon, American Hospital Dubai
Consultant Oncoplastic Breast Surgeon, Plastic and Breast Surgical Department, Ringsted Hospital-zealand University Hospital-Denmark
Consultant Oncoplastic Breast Surgeon, Plastic and Breast Surgical Department, Roskilde Hospital-zealand University Hospital-Denmark
Specialist, General, and Breast Surgery, Odense University Hospital Ouh, Denmark
Specialist, General, and Breast Surgery, Copenhagen University Hospital (Hilleroed and Royal Copenhagen Hospitals), Denmark
Specialist, General Surgery, University Hospital South (Horsens and Ouh), Denmark
Specialist, Oncology and Hematology Department/ Division Breast Oncology, Lillebaelt Hospital, Vejle, Denmark
Education & Training
M.B.CH. B, Bachelor of Medicine and Surgery, Iraq
M.d. Certificate of Completion of Training, Copenhagen University Hospital, Denmark
Danish Board in General and Breast Surgery, Copenhagen University Hospital, Denmark
European Board of Breast Surgery-UEMS, the European Union of Medical Specialists, Bruxelles, Belgium
Master's Degree in Breast Oncoplastic and Reconstructive Breast Surgery, Danish Breast Surgical Society (DBKS), Copenhagen, Denmark
Certification of Completion Training in Breast Surgery, Copenhagen, Denmark
Fellowship in Oncoplastic Breast Surgery, Odense University Hospital OUH, Denmark
Fellowship in Oncoplastic and Reconstructive Breast Surgery, Roskilde Hospital-Zealand University Hospital-Denmark
Professional Diploma in Liposuction and Fat and Nano Fat Augmentation by the American Association
Membership
Fellow of the Danish Breast Surgical Society (DBKS), Copenhagen -Denmark
Fellow of the European Board of Surgery (Febs)/ Breast Surgery, European Union in Medical and Surgical Specialists, Bruxelles, Belgium
Member of Esso the European Society of Surgical Oncology
Member of Abs Association of Breast Surgeons, UK
Member of the Danish Surgical Society (DKS)
Member of the Danish Medical Association
---
---
---
Other General, Visceral, Bariatric, Endocrine and Oncological Surgery Experts