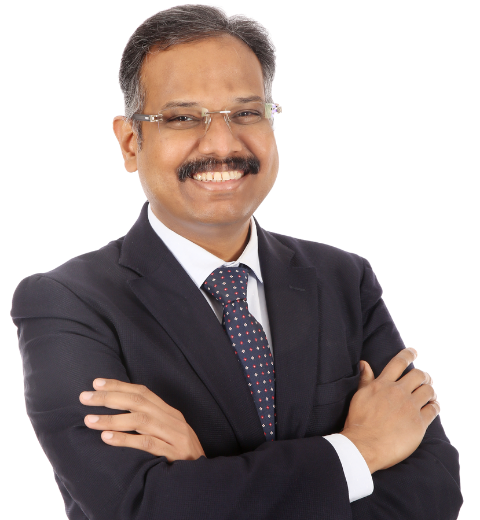 Dr. Madhava Rao
Consultant Ophthalmology & HOD
---
Years of Experience :
22
Nationality :
India
Languages Known :
English, Hindi, Kannada, Tamil
Book Appointment
Biography
Dr. Madhav Rao is a Consultant Ophthalmologist and Vitreo-Retinal Surgeon with over 22 years of clinical and surgical experience after completing his post-graduate degree. He earned his MBBS in 1995 from Kuvempu University in Karnataka, India, and his MS in Ophthalmology in 2000 from Saurashtra University in Gujarat, India. He qualified for the Diplomate in National Board Examination a year later (DNB, Ophthalmology). He became a Fellow of the Royal College of Physicians and Surgeons (Glasgow, UK) in 2002. Also, He completed a two-year fellowship in medical and surgical diseases of the vitreous and retina at Chennai, India's prestigious medical research foundation, Sankara Nethralaya. He became a Member of the National Academy of Medical Sciences (MNAMS), India, in 2003. He has clinical affiliations as an Associate Consultant in Vitreous and Retina at Sankara Nethralaya in India and as a Consultant at Dhahran Eye Specialist Hospital, Ministry of Health, Dhahran, the country's only tertiary referral eye hospital in the Eastern province of the Kingdom of Saudi Arabia. He then relocated to the United Arab Emirates. He continued his practice as a Consultant Ophthalmologist and Vitreo-Retinal Surgeon, spearheading the establishment of a comprehensive vitreo-retinal department (Center of Excellence in Ophthalmology) in a multi-specialty hospital there. He is currently the Head of the Vitreo-Retina Unit and the Ophthalmology Department at Burjeel Hospital, Abu Dhabi. Dr. Madhav Rao has several peer-reviewed publications to his credit and numerous presentations on the medical and surgical retinas at the national and international levels. Dr. Madhav Rao is a Fellow of the American Academy of Ophthalmology and has received numerous awards.
Awards & Achievements
Ophthalmologist Education Award in 2010
International Ophthalmology Scholar Award in 2011
---
---
---
---
Patient Stories
I would like to thank Dr. Madhava Rao and Burjeel Hospital for the success of my surgeries which are Bilateral Phacoemulsification with Pciol advanced technology EDOF Vivity IOL. I recommend all patients with cataract and Retina issues to visit Dr. Madhava Rao. Thanks to all Burjeel staff for the good care provided.
Imad Aljaser | Patient Testimonial
---
I am very much pleased with the way Dr Madhavrao handled my eye surgery, he is highly professional & skilled, He & his team was very cooperative throughout the process. Wonderful experience, delighted with the services offered at the hospital, Thanks a lot !
Udeep Shah | Eye Surgery | Patient Testimonial
---
Other Ophthalmology Experts