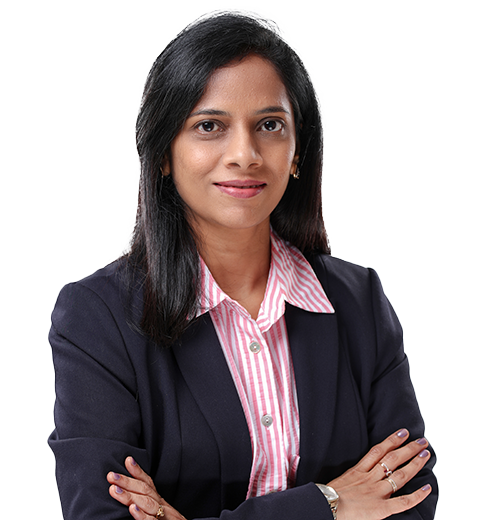 Dr. Rashmi Chandrakant Patil
Specialist ENT
---
Years of Experience :
15
Nationality :
India
Languages Known :
English, Hindi, Marathi, Urdu
Book Appointment
Biography
Dedicated ENT Specialist with a good academic background, communication, interpersonal and problem solving skills. She is well versed in diagnosing, understanding and handling patient's needs and resolving their issues with ease. 15 years of Post PG experience in ENT care in India and UAE. She has completed her MBBS in 2002 and M.S (ENT) in 2007 from Maharashtra, India. Dr. Rashmi started her professional career in 2007 at JN Medical Institute and Research Centre in Wardha, Nagpur as a Professor and ENT Specialist. She worked there for 8 years adding a rich academic and clinical experience to her portfolio. She also acquired M.Phil in Health profession Education from the same institute in 2014. She further continued her journey in the UAE, where she worked at various medical centers in Dubai and Sharjah including Thumbay Medical Centre and Aster Medical Centre providing exceptional medical services until 2023. She has attended several national and international conferences and workshops, received awards for paper presentations and has written numerous research -oriented articles published in esteemed medical journals in her career. Her articles covered topics such as Study of Infratemporal course of facial nerve and its variations 25 temporal bones dissection, Ramsay Hunt Syndrome, Impact of Video assisted teaching in Clinical ENT etc. Her areas of expertise include,
Efficiently performing OPD procedures such and Nasal endoscopy and Laryngoscopy to diagnose various nasal, nasopharyngeal and laryngeal pathologies.
Removal of wax and foreign bodies from the ear, ear piercing .
Foreign body removal from nose and throat.
Allergy diagnosis and management.
Screening and diagnosing ENT cancer.
Diagnosing hearing problems in children and adults, Interpretation of hearing tests and treating them accordingly.
Awards & Achievements
Won Best Temporal bone dissection award 1st position in 2006 at VENTCON Nagpur
Won S.P. Lunawat Best Paper award at Maharashtra state ENT con.2006 held at Jalgaon
Won Best Temporal bone dissection award 2nd position in 2007 at VENTCON Nagpur
Membership
Association of Otolaryngology of India (AOI)- Life Member
Indian Medical Association- Life Member
Academy of Medical Sciences- Life Member