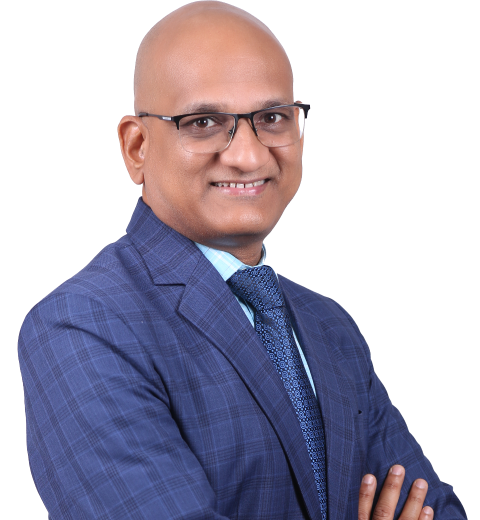 Dr. Chandrakant Patil
ENT Surgeon
---
Years of Experience :
19
Nationality :
India
Languages Known :
English, Hindi, Urdu, Marathi
Book Appointment
Biography
Dr. Chandrakant Patil has over 19 years of experience as an ENT Surgeon. He completed his MBBS in 1997 and MS (ENT) in 2003 from Aurangabad, Maharashtra, India. Dr. Chandrakant embarked on a professional career in 2003 and joined a medical college in Wardha, India as a Professor and ENT Specialist. He worked there for 12 years, adding a rich academic and clinical experience to his portfolio. Later, he relocated to the UAE, started another stint of his career at Thumbay Hospital, a JCI-accredited hospital in Dubai, as an ENT Specialist in 2015, and delivered exceptional medical services until 2022. Dr. Chandrakant`s areas of interest are diagnosing and managing ear conditions and hearing disorders. He is an expert in ear surgeries like myringotomy with or without grommet insertion, mastoidectomy, myringoplasty, and tympanoplasty with or without ossiculoplasty. Nasal surgeries such as functional endoscopic sinus surgery, nasal polyp surgery, surgeries for septal correction in cases of deviated nasal septum, rhinoplasty, tonsillectomy & adenoidectomy, head and neck conditions and disorders of voice and larynx. With scholarly excellence, Dr. Chandrakant has written numerous research-oriented articles published in esteemed medical journals in his career, which are a testament to his academic and clinical experience. His articles covered topics such as "Primary Tuberculosis of the Nasopharynx, Foreign Bodies in Aero Digestive Tract: A Clinical Profile for 53 Patients", "Nasal Septal Deviation and External Nasal Deformity: A correlative Study of 100 Cases", etc. Moreover, he has attended over 100 academic conferences, medical education seminars, and surgical workshops about ENT and related topics to keep abreast of the latest research and knowledge. Dr. Chandrakant holds a life membership in the Association of Otolaryngology of India, the Indian Medical Association, and the Academy of Medical Sciences. Between 2009 and 2013, he received four "Best Medical Teacher" awards from DMIMS University and had distinction grades throughout his educational career. 
Dr. Chandrakant Patil is fluent in English, Hindi, Marathi, and Urdu. 
Awards & Achievements
"Best Medical Teacher" Award for the year 2009,2010, 2011 & 2013
Research & Publications
Primary Tuberculosis of the Nasopharynx
Foreign Bodies in Aero Digestive Tract: A Clinical Profile for 53 Patients
Nasal Septal Deviation and External Nasal Deformity: A correlative Study of 100 Cases
Membership
Association of Otolaryngology of India
The Indian Medical Association
The Academy of Medical Sciences